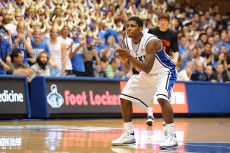 Duke opened the season in grand style by defeating a pesky Princeton team 97-60 in their first game in the CBE Classic.  After a sluggish start on the offensive end, Duke imposed their will in the second half and ran away from the visitors.
Duke was led in scoring by Nolan Smith with 22, followed by Kyle Singler with 16, Seth Curry 14 and Andre Dawkins with 13 to round out double figure scoring.  Here are my game thoughts and observations -
Three ball still Duke's bread and butter
The Blue Devils connected on 14 of 26 three point shots which translated into 42 of their 97 points.  In the pres season I exclaimed that Duke had more three point threats than at any other time in the Coach K era and the Devils are making me look like a prophet.  When Duke nails the three to the tune of ten or better, it'll be hard to take them out.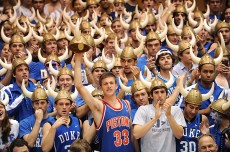 Cameron Crazies honor Drew Everson and they were on fire all night
Just moments ago, Coach K praised the Cameron Crazies for bringing the most energy in an opener than at any other time in his career and he was right.  The students were on their A game tonight it it helped propel Duke to reach deep when they struggled.  The Viking helmets were a tribute to Drew Everson who passed away far too early in life.  He was also one of the head line monitors.  His parent were on hand tonight and they had to enjoy the love the students showed their son.
Kyrie Irving and the freshman make their debut
Irving dropped 9 assists to go with his 17 points  making his debut quite successful.  Tyler Thornton had a steal and then a bucket and a couple of assists to get his name in the books for the first time.  Josh Hairston 2 points, 2 boards and a steal.  Make no mistake, Kyrie is the real deal but he is still learning and that's scary for opposing teams.  Kyrie was the first freshman PG to start at Duke since fellow New Jersey native Jason Williams.
Seth Curry made his debut too
Curry came off the bench at the 14:26 mark in the first half to make his collegiate debut and his 14 points was more than any other players debut save Roshown McLeod who actually started as a transfer in his first game.  Curry really turned it on in the second half and nailed 3 of 5 three point shots for the game.
Leaders lead and Nolan and Kyle led Duke
Kyle Singler got into foul trouble by playing help defense according to Krzyzewski.  Despite being saddled with fouls, Singler was 7-10 from the floor and 2 of 3 from the beyond the arc.  Throw in 2 assists, 2 steals and 2 blocks and his numbers speak loudly.  Nolan led the team in scoring with 22 points and his 6 assists stand out as well.  Irving said he played off their energy, the same energy they played with in the Final Four.
Pressure defense forces turnovers
Coach Krzyzewski loved the fact that Duke forced a methodical Princeton team into 27 turnovers which was the most since 2009.  He said all along that Duke could press this year and trust me, Princeton is a well coached team that will never have that many turnovers again this season.
Cal Ripkin Jr. was in the house
The Baltimore Oriole's legend Cal Ripkin Jr. took in the action tonight along with his wife and son.  It was obvious that he enjoyed the game.  Being an Orioles fan I would have killed for an autograph but media protocol is something I adhere to.  It was still cool to see one of my two favorite players of all time.
Zoubs beard still casts a shadow
Big ole Brian Zoubek took in the action and he got a pretty good cheer from the Crazies.  Steve Johnson was there too and after my typo on twitter I cannot tell you what the Crazies were cheering about him.
Coming clean on the typo
As many of you know, we tweet observations from the game in Cameron and some road contests.  I thought I typed Duke shot 40 something percent in the first half.  The thing is that the "i" and "o" keys are beside each other and I can get in a rush with overloaded senses from being in Cameron.  Hey, I'm human!  Sign up for BDN Twitter and get lots of royal blue updates.
Marshall Plumlee and Rodney Purvis in the house
Future Blue Devil Marshall Plumlee and top prospect Rodney Purvis were behind the Duke bench tonight.  For more on recruiting, come off a few ducks and join BDN Premium where we will overload your senses with royal blue information.
Another sell out
Duke has sold out 306 consecutive home openers but that streak would be a lot longer if .... I bet you didn't know that game came in the Bobby Hurley area versus Boston College who at that time was not in the ACC.  The game was part of the pre season NIT and the Duke powers that be made the game a separate ticket from the season ticket package, meaning you had to buy it on your own.  As it turns out there were about 700 or so unsold seats due to many not knowing of their availability.  In short, had the tickets been part ff the season ticket package, that streak would be a lot longer.  BDN was on the scene back then too.  Check back in for more game coverage, but until then here are Coach K's post game comments vis BDN Audio -
Coach K's press conference comments -