I am one of those folks who think Christian Laettner was Duke's All Time Greatest Players and the legendary figure was honored and inducted into the NABC Basketball Hall of Fame.
From Duke Sports Information -
KANSAS CITY, Mo. -  Former Duke men's basketball standout Christian Laettner was inducted into the National Collegiate Basketball Hall of Fame on Sunday evening at a ceremony at the Midland by AMC in Kansas City, Mo.
Laettner is one of 13 Duke players to have their jersey number retired in the rafters of Cameron Indoor Stadium. He helped lead the Blue Devils to four straight NCAA Final Fours, including national championships in 1991 and 1992. The 1992 National Player of the Year and three-time All-America, Laettner averaged 16.6 points and 7.8 rebounds for his career. His 2,460 points and 1,149 rebounds in his career rank third all-time at Duke while he holds the school record with 713 career made free throws.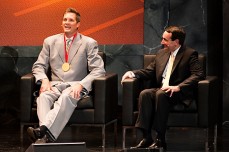 As a junior, Laettner was named second team All-America, MVP of the Final Four, ACC Athlete of the Year, first team All-ACC and to the All-Midwest Regional team. He averaged 19.8 points, 8.7 rebounds, had 75 steals, 44 blocked shots and a .575 field goal percentage. He followed his terrific junior season with an even better senior campaign, averaging 21.5 points, 7.9 rebounds, had 74 steals, 32 blocked shots and a .575 field goal percentage. He was named National Player of the Year, ACC Player of the Year, ACC Athlete of the Year, ACC Tournament MVP and MVP of the East Regional.
Laettner was the third player taken in the 1992 NBA Draft and played 13 seasons in the NBA with the Minnesota Timberwolves, Atlanta Hawks, Detroit Pistons, Dallas Mavericks, Washington Wizards and Miami Heat.
He was also a member of the Dream Team that went on to win the gold medal in the 1992 Barcelona Olympics.
Laettner becomes the fourth person with Duke ties to enter the Collegiate Basketball Hall of Fame, joining Vic Bubas, Lefty Driesell and Dick Groat. He is joined in the 2010 class by David Thompson (N.C. State), Sidney Wicks (UCLA), Jerry West (West Virginia), Davey Whitney (Alcorn State Coach), Tex Winter (Marquette, Kansas State, Northwestern, Washington and Long Beach State Coach) and contributors Wayne Duke and Tom Jernstedt.
Duke's men's basketball team is currently in Kansas City for the final two rounds of the O'Reilly Auto Parts CBE Classic and will face Marquette Monday night at 7:30 p.m. (ET) in the Sprint Center.