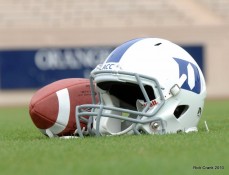 In anticipation of this Saturday's matchup with Virginia, BDN checked in with the Sabre to get an update on the Cavaliers' 2010 season. Kris Wright was gracious enough to entertain our questions after UVA's big win against Miami last week.
BDN: With a new coaching staff, there are always some growing pains. What have been the biggest changes you have seen, on and/or off the field?
Kris: There is a long, long list of things that have changed over the past 11 months since Coach London was hired in December 2009. On the field, UVa has switched from a 3-4 defense to a 4-3 scheme and reverted back to a pro-style offense after an experiment with the spread in recent seasons. Off the field, Coach London is much more accessible beyond his media obligations, much more forthcoming with information on things like injuries, and much more enthusiastic as a coach than we have seen in the past few seasons here at Virginia. Beyond that, the team had its highest team GPA in a decade this past spring. That's the 'in a nutshell' version, but rest assured, UVa fans and the administration are very happy with how things have gone with this coaching change.
BDN: Virginia is just 3 wins away from bowl eligibility, after a total of 3 wins last year. What were your expectations for Mike London in his first year, and how would the fan base evaluate the season so far?
Kris: I wouldn't say there were many expectations in terms of total wins, bowl chances, and the like. I think most people wanted to see progress on and off the field, but not necessarily in win totals. If you looked at the schedule before the season started, you could pick three wins out of there easily (Richmond, VMI, and Eastern Michigan) and other possible wins if things go well that week (Duke, Maryland, Boston College). Beyond that, no one was expecting anything other than improving week to week, which this team has been doing during the back half of October en route to that big win against Miami last week.
BDN: The Virginia offensive line gave up 15 sacks over the first 5 games, but just 2 sacks in the past 3 games. What has caused the improvement that has opened things up for QB Marc Verica and RB Keith Payne?
Kris: It is hard to pinpoint any specific thing other than added experience together. There was a shuffle on the line due to an injury to Landon Bradley, who was the starting left tackle but missed the past couple of games with a hand injury (he is expected to be available this week). That moved right tackle Oday Aboushi to the left side and true freshman Morgan Moses into the starter's spot at right tackle. Overall, however, I think it's just a gelling and growing process unfolding with the players and their new coaches.
BDN: The Cavaliers' defense has several NFL-caliber players, led by junior CB Chase Minnifield. How has this group handled the transition from a 3-4 to a 4-3? Do you think the new scheme is a better fit for the personnel?
Kris: The defense has been up and down throughout the season. It had two really good outings against Southern California and Miami, but really struggled against Florida State, North Carolina, and Georgia Tech. There have been other in-between games too. The transition issues have been turning up in the form of big plays as everyone on the schedule (except VMI) has put up a handful of big gainers and nearly everyone has put up long scoring plays too. I think that's a sign of being over aggressive within the attacking 4-3 defense - losing pursuit angles, breaking down with rushing lanes, missing tackles, and things like that. With that said, I think the new scheme is a good fit for the personnel that UVa will be able to recruit.
BDN: Under Coach Cutcliffe, Duke has had Virginia's number, winning both of the last 2 matchups, though UVA had won the previous 8 meetings. What do you expect to see on Saturday when the Blue Devils' passing attack faces the physical Cavaliers' secondary?
Kris: Every game is about match-ups and you picked out the big one, Duke's passing offense vs. UVa's pass defense. I think the key there will be open field tackles, though. The Blue Devils spread it out horizontally and throw quick passes a lot so Virginia will need to be sound with one-on-one tackling duties in open space. If the Cavaliers can do that, I think they will win the match-up and I don't think the Blue Devils' defense is consistent enough to contain the Virginia offense on the other side.