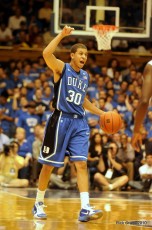 Game 2 • O'Reilly Auto Parts CBE Classic 
[1 AP / 1 Coaches] Duke (1-0)  vs. Miami [Ohio] (1-0)
Tuesday, Nov. 16, 2010 • 7:30 p.m.
 
The Opening TipDuke faces Miami [Ohio] on Tuesday, Nov. 16 at 7:30 p.m. in Cameron Indoor Stadium. Both teams are 1-0 on the season with Duke owning a 97-60 win over Princeton on Sunday, Nov. 14 and Miami [Ohio] topping Towson, 60-57, on Nov. 12. The game will be televised on ESPNU with Mike Patrick (play-by-play) and Len Elmore (analyst) calling the action.
Duke-Miami [Ohio] SeriesTuesday's game marks the first meeting between the two schools.
 
Duke vs. The MACDuke is 6-1 all-time against teams currently in the Mid-American Conference. The Blue Devils have won four straight against MAC schools.
 
O'Reilly Auto Parts CBE ClassicDuke is now 4-1 in the O'Reilly Auto Parts CBE Classic after topping Princeton, 97-60, on Sunday. The Blue Devils went 3-1 in 2006, losing to Marquette in the championship game, 73-62. The Blue Devils also play Marquette on Nov. 22 in Kansas City, Mo., followed by a game on Nov. 23 against either Kansas State or Gonzaga.
Numbers Game
l The Blue Devils opened the season ranked No. 1 in the AP poll for the seventh time in school history. Duke has been ranked No. 1 in the AP poll in an NCAA-best 15 different season under Coach K.
l Including Tuesday's game, Duke has played more games (192) when ranked No. 1 in the AP poll than as an unranked team (141) under Coach K.l Duke has only lost two home games in the past three seasons, posting a record of 49-2 in Cameron Indoor Stadium during that span. The Blue Devils currently have a 20-game win streak at home.
l The Blue Devils have won an NCAA-best 78 consecutive non-conference home games. The last home loss against a non-conference opponent for the Blue Devils was on Feb. 26, 2000 against St. John's, 83-82.
l Duke has won 23 consecutive games in November, dating back to a 73-62 loss to Marquette in the championship game of the 2006 CBE Classic. The Blue Devils are 103-10 all-time in the month of November under Coach K.
l Duke's backcourt players combined for 68 points, 19 assists and 11 three-point field goals in the win over Princeton. The starting guard tandem of Nolan Smith and Kyrie Irving delivered 39 points and 15 assists.
l The Blue Devils recorded an assist on 72.2 percent of their made field goals (26-of-36) in the season opener against Princeton. Duke had 13 assists on 16 first half field goals. l Duke has won 32 consecutive games against teams outside the traditional power conferences (Big Ten, Big East, SEC, ACC, PAC 10, Big 12). Virginia Commonwealth's 79-77 win over Duke in the 2007 NCAA Tournament was the Blue Devils' last loss to a team from a non-power conference.
l Senior Nolan Smith leads the ACC with 11 straight double-figure scoring games. He has scored 10 or more points in 25 of the last 26 games for the Blue Devils.
l Nolan Smith (22), Kyrie Irving (17) and Kyle Singler (16) combined for 55 points in the season opener. Jon Scheyer, Singler and Smith comprised the highest-scoring trio in the NCAA a year ago at 53.3 points per game.
l Duke's 97 points scored on Sunday were the most points allowed by Princeton since a 103-76 loss to North Carolina on Dec. 31, 1968.l All 10 Blue Devils that played on Sunday scored at least one basket with five players reaching double-figures in scoring for Duke.
l Duke's reserves outscored the Princeton bench 35-16 in the season opener. Sophomore guards Seth Curry and Andre Dawkins paced the bench scoring attack with 14 and 13 points, respectively.
l The Blue Devils took four charges on Sunday against Princeton. Ryan Kelly, Miles Plumlee, Kyle Singler and Nolan Smith each took a charge in Duke's win over the Tigers.
l Senior Kyle Singler has made at least one three-point field goal in 67 of the last 77 games for the Blue Devils. He was 2-of-3 on Sunday and now has an ACC-high (among active players) 207 three-pointers.
l The Blue Devils forced 27 Princeton turnovers in the season opener, which marks the first time that Duke has forced over 25 or more turnovers in a game since Jan. 14, 2009 when they forced 28 against Georgia Tech. The Blue Devils scored 36 points off the turnovers on Sunday and had a +24 points edge that category.