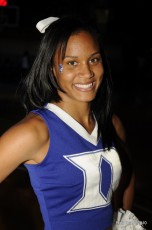 The Duke Blue Devils football team closed out the season with a 24-19 loss to North Carolina while the men's basketball team headed to Singler-ville bringing home a win over Oregon this past week.  This week the football staff starts concentrating on recruiting while the men's team prepares for Michigan State in the Big Ten-ACC Challenge and we discuss all of this and more in our latest Monday Musings offering.
Good homecoming for Kyle Singler
Duke took care of business in Portland after spending time with Team Singler, aka, his family.   Singler dropped 30 points, his career high in the win over Oregon but the feeling here is that he will break that tally again.  Unless you've been sleeping under a rock you know that Singlers family is very athletic and competitive and Kyle who grew up watching film on Celtic great Larry Bird could be at the top of the list. 
Another test awaits the Blue Devils
Okay, it's no secret that this years edition of the Duke Men's Basketball team is loaded with talent and each game is a lesson for the long season to come.  On Wednesday evening Michigan State the consensus pre season #2 rated team comes into Cameron in a game that will have the place rocking.  The fact that the Spartan's dropped an early season game will only make them tougher and they're getting healthy after some nagging injuries.  Duke will face a team deep enough to challenge their depth and present some pressure on the defensive end.  The bottom line is that Michigan State is the best team Duke will have played to date andwill be one of the best teams they play all season long.  Many feel the two will eventually run into each other for a second time come March Madness.
As I said, it's a long season ahead
The media will continue to build Duke up after every win eventually claiming them to be unbeatable should they continue their winning ways.  I feel Duke is the nations best team in November but the season has four solid months to go and lots of things can happen along the way.  We are also hearing  chirping of the team going undefeated and all I can say to that is temper your expectations for it will not happen.  Still, Duke should develop along the way and it is frightening to think of what they'll look like come seasons end should their chemistry be intact.
Meanwhile Coach K keeps knocking down wins
Count from one to eight hundred and one and tell me how ridiculous that is when you think each number that rolls off your tongue is a victory for Mike Krzyzewski.  We'll drop you a hint that the UNC-Greensboro game could be one for the record books for if all goes as planned that will be the one where a huge milestone is set.  Can you figure out what that milestone will be?  And for what it's worth Coach K is so far ahead of other active coaches in weeks he's spent as the nations top ranked team that it's not even worth mentioning how far Roy Williams is behind him and the Heels coach is in 2nd.
Football season comes to an end
Duke finishes the season at 3-9 but they lost four ACC games by a touchdown or less.  I don't think Cutcliffe and company will worry with that more than getting the team physically stronger.  The goal is to realy hit the weight room hard at certain positions, reevaluate team personnel and acclimate newcomers into a solid group of returning players.  Next season will be the first year Cutcliffe has all of his players on the roster for the first time.
Sean Renfree
After a season of learning, look for Duke quarterback Sean Renfree to come back with a vengeance.  Renfree is the kind of kid that'll work his butt off in the off season and don't look now, but he will be one of the most experienced signal callers in the league as other schools break in new players at his position.
Let's take a peek at next seasons schedule
It's never to early to look towards next season, so here is the 2011 football schedule - Duke will play Richmond, Tulane, Stanford, Florida State, Georgia Tech, Virginia Tech and Wake Forest at home and will visit Florida International, Boston College, Miami, Virginia and North Carolina on the road.  Duke will liklely be favored to win five of those games in the pre season, so a six win season of bowl eligibility could come to fruition.
My girls, the Duke Cheerleaders, will lose seven senior members after this season!  That has to be a record.  Anyhow, congrats to them and thanks for cheering your last football game at Duke on Saturday. 
Follow Blue Devil Nation on twitter and participate in contests to win free BDN Premium memberships.  We will ask for the point spread, leading scorer and such and the closest Devils fan to our requests gets your name in twitter lights and can join in on our private message board discussing all the latest Duke happenings, especially the recruiting front.  So, sign up today where we are taking picks for the actual score in the Duke-Michigan State contest.  Also, check out or Facebook group as well.  Lastly, I hope all of you who make up the Blue Devil Nation had a nice holiday break.