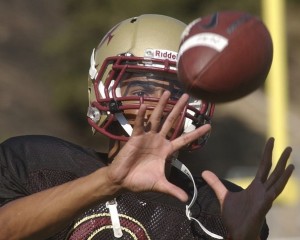 In recent years, Duke has had a lot of success in recruiting and developing talented wide receivers in Durham, most notably All-ACC performers Eron Riley, Donovan Varner, and Conner Vernon. Current wide receivers coach Matt Lubick hopes to continue that trend, and secured a commitment back in August from Blair Holliday, a 6'3" wide receiver from Westlake Village, California. With a great frame and a breakout senior season, Blair looks like he will become another great receiving weapon for the Duke offense. Blue Devil Nation checked in with Blair just before Coach Lubick watched Blair play in his California sectional championship game.
BDN: It looks like Oaks Christian has had a very good year; can you give us a quick recap of your season so far and update on what's new with you?
Actually, tonight we're in the CIF sectional championship game at home, so I'm excited for the game tonight. I think Coach Lubick is going to be out here, the wide receivers coach there at Duke, is coming. Last week, Coach Roper was over at my house for an in-house visit and then January 15 – that weekend – I'm taking my official visit out to Durham. I mean, my senior season has been going great – better than I expected. A lot of people didn't think we'd get to the point that we are now, being in a tougher league, losing the guys that we did last year. But we're in the CIF championship tonight and hopefully we'll come away with the W.
BDN: Can you talk a little about your visit with Coach Roper and where the coaches think you fit with the Duke program?
Basically, when Coach Roper came over, he explained to me the offense and how it functions. They run the – I forget what exactly the technical term is – but they run a slot receiver and two outside receivers. He said that when I come in, he'll want me to learn both slot and outside receiver. He explained to me the breakdown that basically the X gets most of the balls in their offense and that at Duke since they do thrown the ball a lot their rotations with the wide receivers – there's a lot of rotations. Basically he was hoping I could come in and get some playing time as a freshman, next year. Like I said, he told me that since the receivers usually get a majority of the balls, there's a lot of – I'm not going to say injuries, but their wide receivers are beat up, so rotations are continuous in their system.
BDN: How much follow have you been able to follow Duke and what are your thoughts on the program?
I wasn't really able to watch many games, it was difficult for me to find them, but I'd watch the Sportscenter recap or ESPN mobile scores on my phone. I saw a lot of games where they lost by a touchdown or it came down to a couple plays, which just shows me that the little things that lost them some close games – those things can be fixed. I've been looking at the recruiting class, the commits that have committed to Duke and it seems like they're bringing in some real good quality guys. The future is bright and with the guys that they're bringing in ,w hich I'll be meeting a few in a couple weeks when I go out there. It looks like our future is promising.

BDN: You've got the championship game tonight, but what's next for you?
The championship game tonight, then I start basketball season. During basketball season I'm just going to focus on weight lifting, maybe some speed training on the side. Little things that will get me in shape and will get me ready for when I get out there in July and start my college career.
BDN: Thanks, Blair. Good luck tonight.
Thanks a lot.
Oaks Christian defeated Westlake 29-28 to win their CIF championship and finish at 12-2. Blair scored the game winning 2-point conversion late in the fourth quarter, while also hauling in 6 passes for 79 yards. UCLA and Colorado have recently expressed interest in Holliday, but Blair confirmed  to BDN that his only scheduled official visit will be to Duke in January. We will check back in with Blair after his official visit, as signing day approaches.