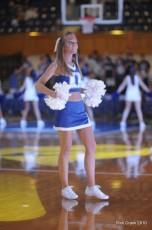 It's the Christmas and Holiday season and BDN wishes all of you a safe and happy time.  Duke students are hard at work on their exams while the basketball and football staffs gear up for a bit of recruiting. 
Tickets still avaliable
On December the 29th, a Wednesday evening in Greensboro, Duke will take on UNC-Greensboro in a game that will push their record to 12-0 on the season.  But it is Krzyzewski's record that will be the focus and around 9:00 that evening the HOF coach will pass North Carolina's Dean Smith with 880 wins landing him in 2nd place on the All Time NCAA wins list.  There are still tickets available for the historical game, so get on the horn and make arrangements to be there for a piece of history.  You'll be hearing a lot more on this as the game approaches and you can see that we have added a graphic to salute Krzyzewski's accomplishment.  And 23 wins past that, Krzyzewski will own the record all by himself over his mentor and friend Bobby Knight. 
Krzyzewski keeping it low key
One might think Coach K would be living in the moment with such a record coming but he is more concerned with this seasons team and he seemingly will prolong the urge and joy of celebration.  No matter how you cut it, this will be one historical season but he wants to be the last team standing in Houston, so his work efforts will be focused on that goal rather than the record. 
Holiday Tournaments begin
The Men's Basketball staff wil be hitting up some holiday basketball tournaments where they'll see pretty much everybody on their watch list.  BDN will be taking in a few of the events as well so we can keep the information flowing.  The recruiting picture will begin to clear this month but it'll be spring before we really get a feel for who the new targets will be.
Let's defend
No, I'm not talking about the national title.  Besides, if you are a Duke fan you realize that the Blue Devils do not defend any championship for each year the team changes personnel.  Krzyzewski has put great emphasis on defense during the December games though and that is the first sign of what the team might look like without the injured Kyrie Irving.  It's really not a big departure from last year but expect the team to morph even more in due time.  You can bet that there are some late nights where the staff is rethinking their plans and you of course know by now, that I for one remain positive that Kyrie Irving will be back on Coach K floor before the season is out.
It's "on" come January
Enjoy the break while you can for once January hits it'll seem like Duke is playing a game every night compared to the December lull. Duke plays their first of six conference games starting with Miami in Cameron.  Next up will be Maryland who fancies themselves Duke's rival, again at home but away games with Florida State and N.C. State will give one an idea of how Duke measures up before the February-March run.  Duke will go out of conference with a trip to New York to face St. John's as well.
Singlers time of year
I continue to be impressed that Duke senior Kyle Singler doesn't bump his averages up against weaker competition.  Most players numbers or stats drop come ACC time but that's when Singler picks his game up.  Watch as his numbers trickle up against better comp, a rare thing indeed.  Kyle wants to win first and all else will fall into place.  It should be fun to watch Singler close out his four years at Duke.  That said, realize that this kid stayed when he could have been preparing to hit the road to Boston or Golden State for his next NBA game.
A last minute Christmas Gift thought
Looking for some stocking stuffers for a Duke fan?  Of course there are tickets available for Elon and UNC-Greensboro but Bob Harris has a new book out too.  Bob, of course, is the long time voice of the Duke Blue Devils and his new book "How Sweet It Is!," just hit the bookshelves.  It has a forward from Coach Mike Krzyzewski and even a CD with interviews done with Muhammad Ali and a long list of interesting characters.  My favorite part of the book was when Bob addressed the game where Dean Smith rapped the scoreboard in Cameron and didn't get a technical.  I was there but the game was not on television and Bob recaps what happened on that night and it is simply too good to give away here, so pick up a copy and get the scoop for yourself.
Give the gift of BDN as well
Another gift suggestion is Blue Devil Nation Premium which gives one full site access where you'll be on the inside.  BDN Premium cover more than just recruiting but that is the main draw.  We'll bring you up close and personal be ith the recruiting trail or the hallways of the Final Four.  We'll happilylet somebody know around Christmas that you've purchased them a membership and that is sure to make any Blue Devil fan happy.  We have 1, 3, 6 and 12 month rates that you can link to above.
Duke Football Recruiting
Coach David Cutcliffe and his staff have been hard at work on the trail and with official visits of late.  BDN's Patrick Cacchio has had a bevy of interviews unlike other subscription sites, these are still free at BDN to all at this time.  We'll have more of these interviews as the week progresses so bookmark our site for the best free Duke Football coverage anywhere.