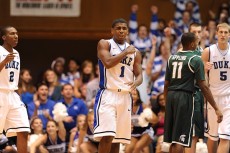 The Duke Blue Devils rode a 31 point effort from Kyrie Irving to take out pesky Michigan State 84-79 in a jam packed  Cameron Indoor Stadium.  With the win the Blue Devils go to 7-0 on the season and next entertain Butler in a rematch of last seasons national championship game.  BDN takes a look at the win with our post game report.
Kyrie, Kyrie and Kyrie
Almost every question posed from the media was about Kyrie Irving no matter who they were talking to.  I followed Irving on the AAU trail and saw him play 20 plus games before he set foot on campus so tonight's 31 point career high effort is no surprise to me.  Irving blew up in the eyes of the national media tonight and the freshman made an early statement as the conferences best newcomer.  Heck, he may be the best freshman in the nation.  Irving was in short sensational ... wait I stole that from Krzyzewski.  Irving's 13 made free throws is tops of any freshman in Duke history.  His two blocked shots were a season high.  Irving had been sick earlier in the week on Monday but returned to practice on Tuesday.
Sensational, superb, scintillating
When asked by media members to describe Irving's game Krzyzewski joked with the media member who asked him to use adjectives which you will hear in the post game audio below.  Krzyzewski borrowed some from Dick Vitale but hey, they sounded original.  Krzyzewski's mood was as expected good after beating a solid Spartans team.
Stars warm up just in time
After slow starts Kyle Singler and fellow senior Nolan Smith warmed up and both finished strong.  Singler knocked down two three pointers after going 2 of 11 early on finishing with 15 points to go with 7 rebounds.  Smith had a team high 5  assists to go with 17 points and he had back to back baskets during a key stretch run.
Mason Plumlee was a man
Mason had a double-double sure.  But it was his 5 steals which really impressed and that earned him glowing comments from Krzyzewski.  Plumlee has turned the corner of late and was an iron man in the game but he did not participate in post game interviews.  The reason is he was immediately treated for a sprained ankle.  Duke would not have won this game had Mason not played as well as he did.  It's a game he can really build on.
Duke forces 20 turnovers
The Duke defense was especially good during a second half run an they forced the Spartans into 20 turnovers and scored a whopping 28 points.  Michigan State forced Duke into 15 but  scored just 14 off of theirs.
More notes - Duke moves to 11-1 in the ACC/Big Ten Challenge and their streak of home wins goes to 81.  Duke has now won 17 straight games going back to last season.  Duke has recorded ten or more steals in 5 of 7 games to date.  Duke has trailed a grand total of three total minutes in all games this season.  Duke has started 7-0 for the 12th time.  Mason Plumlee now has three career double-doubles.  Nolan Smith leads the ACC with 18 straight double figure scoring games.
Coach K left the podium at 12:20 and here are his comments verbatim -
Just press play -