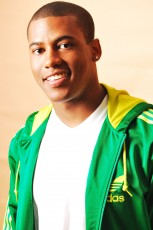 Happy New Year, Blue Devil Nation! 2011 will be an important year for Head Coach David Cutcliffe and the Blue Devil football program, as they look to continue their rebuilding effort and bring Duke to its first bowl game since 1994. While Duke will return a number of talented players on both sides of the ball, the 2011 recruiting class also features an impressive group of athletes that will bolster the depth at several positions. It is no secret that the Duke defensive secondary struggled in 2010, and the class of 2011 will add 3 players who expect to fight for playing time in the backfield as true freshmen. Among these is Chris Tavarez, a 5'11" safety out of Atlanta, Georgia. Chris was in Durham on an official visit in December and caught up with Blue Devil Nation afterwards.
BDN: Can you briefly recap your official visit to Duke?
I went down there with all of the other committed players and a few of them that weren't committed and I had a lot of fun. My host was Matt Daniels, who is the starting strong safety, which I'm trying to play at Duke, and also the leading tackler. That was cool to see, you know, from a leader's standpoint; I got to ask him questions and see how he likes Duke and his experiences, and even the bad parts about Duke, what he doesn't like or what he wishes he could change, what he wants to improve on. That was cool, he was a great host. We ate a whole bunch, we ate a lot, probably four times a day, which is great because I'm always hungry and I'm always stressing to my parents that I've got to eat. It was fun and I learned a lot. I got to meet with a business major and talk to him, because I'm planning on either being a business major or a sociology major, so I got to talk to the business major and that was great to get his insight and his points. I think the most important part for me was that I got to talk to the safeties coach, Coach Knowles, and we broke down film and we got on board and he explained to me that I would best at playing the rover position at safety, and broke down every position in the defense. He told me what my best assets were and what Duke needed me for basically. I loved it, it was a great time, I got to talk to Coach Cutcliffe, the head coach, and yeah, everything was good.
BDN: There were some other commits in the secondary on campus that weekend. Can you talk about your relationship with them?
I was with Tim Burton and Jared Boyd. That was my first time meeting Tim, but I had met Jared, because Jared plays for Stephenson, a school – actually a powerhouse – over here in Georgia. He's one of the best d-backs in Georgia, so I've met him through combines and we've played each other, and they really gave it to us, they killed us. [Laughs] Yeah, though, I actually met Jared at a combine at Georgia Tech, so that was cool to kind of be in competition with someone and then realize that he's going to the same school as you. So that's good to know we're going to be on the same team. I met Tim, who I had heard a lot about Tim going into the official. I heard that he was probably one of the fastest recruits that we've got, so that's good because speed is always needed. He's a small guy, but what I love about Tim is that he talks a big game. Usually people that talk a big game have to bring some results after it, they have to bring some skill, so I love those guys, because I'm like that. I'm really talkative on the field, always trying to hype my boys up, always trying to make the next play, so I think that's what we really need in 2011 and that's going to be a great asset on the football field. I'm really psyched about our secondary, I think we're going to look strong – all three of us have the potential to start and play as freshmen.
BDN: How much were you able to follow Duke's season and where do you think the program is headed?
Duke's 2010 season, it wasn't all that, obviously. I think that we could have won a lot of games, we could have won at least 5 of those games that we lost. A lot of those games were lost by a touchdown or below, so it's not like we're just getting pummeled by these teams. It was just the little mistakes, I mean, we're a young team and it's the little mistakes that we're making that didn't get us the victory. I think with a lot of changes and with the recruits, we can definitely be top ACC contenders. I give us, probably two years, and we'll be top ACC contenders, because it's only the small things we have to change. We definitely have a bright future, our recruiting is getting way stronger and by no time we'll be up there with the basketball program.
BDN: It looks like your team had a tough season. Can you give us a brief recap of your senior year for us?
What's ironic is that we were going through the same thing Duke was with a very inexperienced, young team. We ended up 3-7 and it was kind of hard, because I'm coming off of a season, my junior year, where we only lost 2 games during the season and made it to the playoffs, to come to 3-7. So it was a pretty difficult time for me and I was also injured, mostly half of the season with a high ankle sprain, that I had to take easy and ice everyday in practice. It really sucked, but when I came back they put me at middle linebacker because I was one of the strongest hitters and one of the guys that makes sure tackles, so they put me at middle linebacker and I tried to do the best I could there, even though I was undersized being 190 or 185. I also played special teams, kickoff, kick return and that's about it. I think Westlake, just like Duke, is going to have a good future in the years to come because we're a really young team.
BDN: What are your plans for the offseason? What's next for you?
My plan right now, Patrick, is just to get faster, stronger, and bigger. That's my whole thing. What I got a lot from the players is really stress conditioning. After I sign my letter of intent, Duke will be sending me a book on the conditioning that I need to start working on and my workout plan. The players and the coaches really, I mean in capitals, REALLY stressed the conditioning because no one wants to go there as a freshman planning on playing and can't even run the conditioning requirements. I'm really working on that. I want to get big, but I also want to keep my stamina where it is. Those are my plans. I want to at least get to Duke at around 205 or 210 pounds, and then during summer camp and all the conditioning I'll probably slim back down to 200, 195 so I can be solid enough to play. Those are really my things. I also want to be able to learn the playbook pretty fast, so I'm always in touch with Matt Daniels, the safety over there, asking him about the plays and coverages and stuff like that.
BDN: When can Duke fans expect to see you on campus?
I actually have to talk to my counselor about that, but most likely the first session, I'll be there, I think it's May 18. I'd then have to fly back down for my graduation and then I'll go back up there. It's looking like the first session, I don't know for sure.
BDN: That's great. Thanks so much, Chris. We all look forward to seeing you in Durham. Best of luck with your senior year.
Yessir, thank you Patrick.
Blue Devil fans can catch Chris in the annual Metro Atlanta All Star Game, which will be played on January 8 at Grady Stadium in Atlanta. Blue Devil Nation will continue to bring updates on Duke football's class of 2011 right up through signing day.