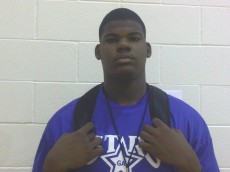 When we last spoke with 2012 big man Tony Parker he was about to visit Duke for their Countdown to Craziness event. Since then the stud big man has been busy with his high school season getting into the full swing of things. Currently Miller Grove High School and Parker are 5-0 including an impressive win against USA Today's number one team in the country Milton. Tony had a great night with 20 points, 12 rebounds, and 5 blocks in the win. BDN got a chance to speak with the highly skilled big man and catch up with him a little bit.
BDN: Congratulations on the big win over Milton, the number one team in the country. This was obviously a big victory for you moving forward, can you talk about how this helps your confidence?
TP: Yea definitely it was a big game and a big win. We just had a tough game yesterday as well and we won. We just have to keep playing and move forward and I think we'll be alright.
BDN: Your [private] team has won back to back state championships and is looking for its third in a row. Can you talk about the pressure and mindset that goes along with that task?
TP: Well to me pressure is only pressure when you don't know what you are doing on the court. So not really any pressure here. It's just the fact of keeping our heads level and stay doing what we've been doing. Go out and work hard every day. Doing that will get us to where we need to be and have us playing like we should.
BDN: Is there a 'take one game at a time' mentality?
TP: Yes sir absolutely.
BDN: Have you had a chance to speak with the Duke coaches recently?
TP: Yea I have. I talked to them before the Milton game.
BDN: Who are the lead recruiters for you with Duke?
TP: It's Coach James and Coach Wojo.
BDN: How would you describe your relationship with them?
TP: It's a pretty good relationship. They came to my school. Coach James came to a lot of my AAU games in July so I know them pretty well.
BDN: Do you talk with any of the current players or commits?
TP: Yea I talk to Quinn Cook a lot.
BDN: Does he speak to you about Duke?
TP: (laughs) Yea yea he does a little bit.
BDN: Have you been able to watch any Duke games on TV this year?
TP: Yea I have. I've watched quite a bit of them actually.
BDN: Any thoughts on the team?
TP: They look really really good. They play tough. They are keeping their mental toughness. They are playing really hard and have a lot of continuity on offense.
BDN: Is there any sort of time frame yet for a college decision?
TP: No not really.
BDN: What schools do you feel are making you a big priorty?
TP: Probably Georgia, Georgia Tech, Florida, Alabama, Duke, Georgetown, Louisville. Florida State is coming on hard too. They really are recruiting me the same. They call me about every day. It's about the same.
BDN: Are schools recruiting you more as a power forward or center?
TP: Pretty much both from all schools.
BDN: Do you have a preference in playing back to the basket or face up?
TP: I like to mix it up a lot. It really depends on who's checking me. With long guys I'll try and face them up and use my moves. With smaller guys I'll post them up and use my drop step.
BDN: Appreciate your time, Tony. Congrats again on the big win over Milton.
TP: No problem sir, thank you. [/private]