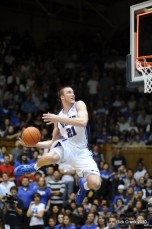 It doesn't seem like it's been that long since I saw Duke and Michigan State players pass each other as the two teams practiced after one another during the Final Four.  In just a few hours Duke meets the Spartans in Cameron Indoor Stadium, taking on the team which has been picked the second best in the country by pretty much everyone.
The atmosphere should be terrific as Cameron Crazies have been in form all afternoon in anticipation.  The game will provide a  great measuring stick to see where Krzyzewski's 2010-11 edition stacks up against a very athletic team.  BDN will be on the scene in just a couple of hours and we'll be sending some tweets out from press row, so be sure to sign up and tune us in for a birds eye view of the court happenings.
After the game, stay tuned for some late night, early morning interviews once the game has concluded.  It's going to be a good one!