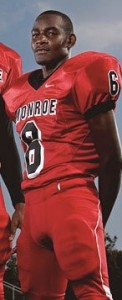 Jamison Crowder is one of the top athletes in the state of North Carolina, having starred on championship-caliber football and basketball teams at Monroe High School. In his senior football season, he played in all three phases, totaling 23 touchdowns and 55 tackles on the season. He was recruited heavily by all of the North Carolina schools, and committed to the Blue Devils in July. Blue Devil Nation checked in with Jamison to recap his senior year and his plans for the New Year.
BDN: Can you tell us about your senior year, it looks like you had a really good year overall?
We actually lost a couple games early in the season and everybody didn't think we were as good as we were last year, but we did pretty good. As the season went on, we ended up getting things straight and got in the playoffs, and then went further than we did last year, so it went real good this year. This year, for myself, I scored a few more times than I did last year, but I feel like I didn't really have my breakout game, though, but it was still good.
BDN: Were you able to visit Duke during the season and what are your plans for an official visit?
I haven't gone on an official visit yet, I'm supposed to be going January 14, I believe. I went to a few games over the season, I went to, I believe 3 or 4 games. I really liked it up there pretty good.
BDN: What did you think of what you saw of the Duke team this year and where do you think the program is headed?
I saw that in a lot of ballgames that they played, they were in it, but just needed a couple playmakers. I thought that as the season went on, they became more competitive with the teams they played and they lost a lot of close games. I feel like once I get up there and the people that's coming in get up there, we'll win some games.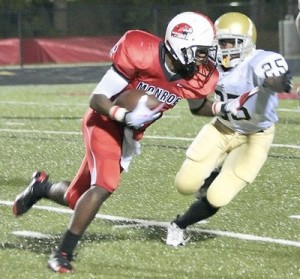 BDN: Can you talk about your relationship with the coaches and what they think your role will be at Duke?
I've been talking a lot with Coach Lubick, we real close, and he talks to me every now and then or comes to visit, but I talk to him like almost every Monday. They want me to come and play special teams and a little bit of slot receiver. They're just telling me to work hard in the classroom and get better every day so that when I come there I'm prepared to work.
BDN: I know you also play basketball, how is your season going so far?
Yeah, that's right. It's going pretty good. Right now I'm out with a pulled hamstring – I'm out for a few weeks. We look like we've got a pretty good team in basketball this year, so it's going pretty good.
BDN: What are your plans for the rest of your senior year?
Right now, I'm just working in the weight room. I ain't got too much planned, just the official visit, school work and weight room, trying to get better.
BDN: When do you plan to enroll at Duke?
I haven't really thought about it, but I'll probably enroll in the summertime. Probably that second session of summer school, I think it's July or August.
BDN: Thanks for talking with me and best of luck with your basketball season.
Alright, no problem.