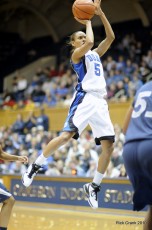 DURHAM - A marquee match up between third ranked Duke Blue Devils and the fourth ranked Xavier Musketeers took place in Cameron Indoor Stadium in a game which oddly had  no television coverage.  With a partial band and lack of cheerleaders due to the Christmas break, the team had to at times reach for emotion and that made the Blue Devils homecourt edge less intimidating.
But in the end, there was plenty of emotion as Duke made a fuirous late 6-0 comeback run down the stretch to defeat their game opponent 46-45.  Duke is now 12-o on the season while Xavier falls to 10-1.
Duke senior Jasmine Thomas blocked  a shot at the buzzer to secure the win and Cameron which went nuts as did Xavier Coach Kevin McGuff who had to be restrained by another coach as security moved in.  The refs then went to the scorers table to check the monitor and afterwards they called it a game and Duke escaped with an exciting win.
"That is truly one of the best plays I have ever seen in 19 years of coaching. As we got back and we all went, apparently for the ball – I'll have to look at it on film to really know – it's a good lesson to staying matched up in transition. Of course, they got it deflected out, which of course was a tremendous benefit to them, and all of a sudden you see this lightning bolt out of nowhere block a great shot," said Duke Coach Joanne McCallie
The Blue Devils had no answer for Amber Harris who ended the game with 22 points, 15 rebounds and 6 blocked shots but they made up for it with 21 steals filling the passing lanes all night.
During the post game press conference, Coach McCallie admitted it was an ugly game and that her team which went for almost 7 minutes in the second half without a point struggled to find good shots.  But she then made this statement, "If you find a way to win ugly, you can win them all."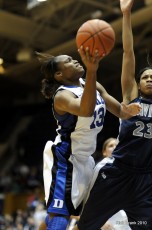 After a back and forth first half where there were five lead changes, the Musketeers defense kicked in and Duke which started hot went cold from the field.  As the second half started Duke scored just two points in the first five minutes before they fought their way back into the game after going down by eight points.
Duke tied the game back up on a Krystal Thomas lay in at 40 apiece with 9:00 to go, but Xavier star Amber Harris answered putting the Musketeers back up and the two teams then grinded it out defensively where neither team could find the basket.  But then Harris scored inside and was fouled and Xavier clinged to a 43-40 lead.  Another Harris jumper made it 45-40 with just 2:42 to go but that's when the Blue Devils woke up and found their groove just in the nick of time.
Jasmine Thomas cut the lead to three after a lay in and Duke then forced a turnover where Allison Vernerey made a key steal and then Duke found Krystal Thomas  under the basket and she was fouled, making one of two and tying the game at 45 all with 31 seconds left on the clock.    Karima Christmas then tipped the ball out and Jasmine Thomas came up the ball on the baseline and was fouled with 2 seconds left and hit 1 of 2 free throws giving Duke a single digit lead.
That's when an amazing sequence took place.  Xavier set up a great play and the ball went to a wide open Special Jennings and Jasmine ran full speed from about the scorers tabel recovering to block the shot which set off an emotional outburst from the Xavier as we mentioned.  After the dust cleared, Duke walked away with an ugly but substantial victory.
Coach P, Jasmine Thomas audio below - Just press play.
Sidebar - The point total was the lowest for Duke since they lost to Purdue 62-45 in 1999 yet they still won.  Duke outscored Xavier 22-9 off turnovers and the lead changed 6 times although it seemed like more.  Duke shot just 26.8% from the field a season low and held Xavier to 1 for 12 from the three point stripe.  Duke won it's 14th straight game in Cameron and 14th straight over Atlantic 10 teams.  Jasmine Thomas 2 steals moved her to 6th place on the all time list.  Coach P is now 46-4 in Cameron since she arrived.    Duke will next play Temple at home on December 30th.