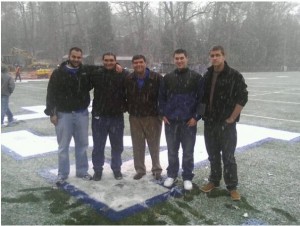 Head Coach David Cutcliffe and the Blue Devils hosted a bevy of prospects for official visits this past weekend on a snowy Duke campus. Among them were four of Coach Matt Luke's impressive offensive line prospects, including Ohio native Matt Skura. Skura is a 6'3" 265 pound offensive lineman from Columbus, who committed to the Blue Devils back in June and will compete for playing time at center in 2011.
Blue Devil Nation caught up with Matt shortly after his visit to Durham.
BDN: Can you recap your visit last weekend and describe how that went?
It was definitely a lot of fun, getting to meet all of the coaches. It was good to actually meet all of the coaches, because I've been mostly seeing Coach Luke. A really important thing for me during the visit was that my entire family was comfortable down there. For my mom, it was the first time that she went and she liked it a lot - that made me feel a lot more comfortable. For me, being able to go on campus with some of the other football players and seeing what the college life was, also helped me become more comfortable. I just had a great time; it was an amazing experience getting to be with all of the prospects and meeting new people, seeing all the great facilities.
BDN: Who was your host when you were there?
Conor Irwin was my host and he showed me around. I got to hang out with some of the other offensive linemen while we were there, so I got to meet a couple new people.
BDN: In speaking with some of the other offensive line commits, they've mentioned how you guys have stayed in touch throughout the year. How did that happen and what was it like getting to spend the weekend with them?
First I met Lucas Patrick and Cody Robinson last year at the summer camp. From there, Lucas, Cody, and I kept in touch through Facebook or just texting each other. Lucas wasn't at the official visit this weekend when I was there, but when the other linemen spent time together we really bonded and will stay in touch, which I think is really a key. We all really get along, which to be honest, I was a little bit nervous about, because I didn't know Marcus or Carson as well before the official visit. Getting to know them and getting to know Cody a lot more has made me more comfortable and I think in the future it will help us as well.
BDN: How much were you able to follow Duke's season and what were your impressions?
I know they didn't have the season they wanted, but I did get to follow their season quite a bit on the computer on espn3. They had a lot of close games, definitely ones that they should have won. I don't think their record reflects how good a team they actually are. I think especially next year and the years to come, Coach Cutcliffe and Matt Luke have done a really good job in recruiting better athletes and building the program to one of the best in the nation. I'm really impressed with where the program is going and I'm confident that Duke is going to be a very good team.
BDN: Where do you and the coaches see you fitting in with the direction the program is headed?
Talking to Coach Luke about it, he said that I'll be competing with Conor Irwin to get the starting center position, so that's definitely keeping me motivate in the offseason to get bigger and stronger. Hopefully, I'll be competing for the starting center position and go from there.
BDN: I know you guys didn't have the year you were hoping to, but can you recap how your senior season went?
I think one of the things that went wrong in our season was key injuries. In our first game, we lost a starting linebacker and in our second game we lost a starting offensive lineman. In the first two weeks we had two key losses and that kind of got our morale down, both on and off the field. Then later in the season we lost our starting running back, so we kind of had to play with what we had. Overall, I think I had a good season. I played both on offensive and defensive, playing defensive tackle and defensive end and then guard and center on offense. I just tried to focus on what I had to do on every play and not try to play outside my role.
BDN: Thanks so much, Matt. When can Duke fans look forward to seeing you on the field?
Yes sir. I'll be enrolling second semester of the summer, so I think on July 5 or July 6.
Bookmark Blue Devil Nation as your source for Duke football recruiting updates all off-season.