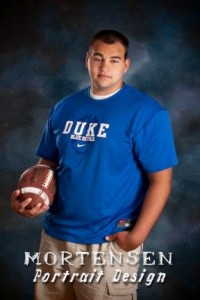 Duke Offensive Line Coach Matt Luke has secured an impressive group of verbal commitments for the class of 2011, including Wisconsin native Marcus Aprahamian. Marcus is a 6'5" 300 pound offensive lineman from Brookfield, who committed to the Blue Devils back in May and will compete for playing time at offensive tackle and guard in 2011. Blue Devil Nation checked in with Marcus after his recent visit to Durham.
BDN: Can you recap your visit last weekend and describe how that went?
It was great. We got there Friday night, me, my mom, and my dad. We got to the hotel and we met some of the commitments, players, parents, and coaches. Then we went out to dinner and talked more with some of the players there and got to ask them questions. We got to go out with the players two nights and see what Duke is like outside of football. That was a lot of fun. Saturday, we got to see all the academic stuff, all the weightlifting and training facilities. That was pretty great to see all that. Sunday we had a nice breakfast, then me, my mom, and my dad got to talk to Coach Cutcliffe about Duke football.
BDN: Some of the other offensive linemen in your class have mentioned that you guys have stayed in touch throughout the year. Can you talk about your relationship with the other Duke commits and players?
Those guys are awesome. All the commitments are just great guys and fun to be with. They're easy to talk to and just a lot of fun. It's easy to talk football with them because we all just love football so much. All the players at Duke right now, I mean I know I got very close to all the offensive linemen there, just in one weekend, so it should be great to form so more bonds with those guys and just be around them.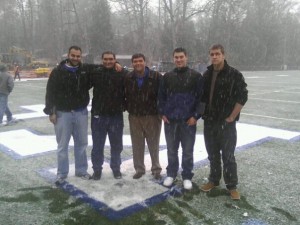 BDN: Where do you and the Duke coaches see you fitting in with the program?
They were saying how excited they were about not only me but this entire recruiting class. We're the future of this program. Coach Luke has been talking to me about playing either guard or tackle. Out of the five commitments we have for the offensive line, one is for-sure center, two are for-sure guards, and one is for-sure tackle, and I'm kind of the guy who can play guard or tackle.
BDN: How much were you able to follow Duke's season and what were your impressions?
I was talking to Dave Harding, who was the starting left guard for them. He was my host for this visit and he was saying how much closer they're getting and how much more pain they feel for the losses. He was saying that's a good thing, that pain they're feeling for the losses, because it just shows they're that close to being a great program. The more pain you feel for those losses the better you will be in the future. We're excited. It should be a good future for Duke football.
BDN: I know you guys had a bit of an up and down season, but individually you were named to the All-Area team, among other accolades. Can you recap how your senior season went?
As a team, I thought we did pretty good. We made it back to the playoffs after one year of not being in it. I wish we could have gotten more, maybe a couple more games. But I just look at it as great memories with all those guys. The new coaching staff that we had, it was great to meet all of them. I think that the Brookfield Central program will be great in the future, there are a lot of really good players coming up. Personally, I thought I had a pretty good season. I got knocked out for a game with a concussion and I was pretty bummed out about that. We had 11 injuries this season and I think that may have kept us from going farther in the playoffs.
BDN: What are your plans between now and when you arrive on campus?
My plans right now are just to keep working really hard. I would like to make an impact as a freshmen, maybe get some playing time. If I could start, that would be awesome, but if I get redshirted, that's ok. I'm just going to keep working hard. Hopefully I can go back to Duke and maybe go to a basketball game or something. I know the coaches – Coach Cutcliffe and Coach Luke – will be coming over to my house for dinner sometimes. I should be graduating around June 12 and the week after that will head to Duke for camp.

BDN: Thanks so much for speaking with me, Marcus. I know Duke fans are really looking forward to seeing you in Durham.
Alright, thank you very much.
Don't forget to bookmark Blue Devil Nation as your source for Duke football recruiting updates all offseason.