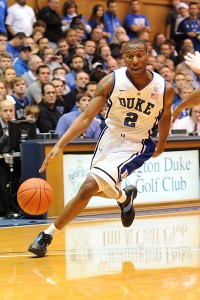 What do we know about this year's team as 2011 quickly approaches? Well, for starters, we know Duke is deep with the ability to place a lot of top talent onto the court. Plus, we know Duke has all the different pieces required to be a champion commencing with senior leadership. Additionally, we know Kyrie Irving is the real deal. He has proven all the hype was warranted. Unfortunately, what we do not know is when Kyrie will be available and on the court for Duke due to his right big toe injury. We know the freshman to sophomore jump is alive and well in Durham. All one has to do is look at the improvements in the play of Mason Plumlee, Andre Dawkins and Ryan Kelly. Finally, we know the team still needs to develop and improve if they are to equal the accomplishments of last season's team.
There's no real point in discussing Kyrie's injury because there is too much we do not know so let's take a look at each of the "things we know" and break them down:
Duke has senior leadership.
The presence of senior leadership is not widespread in today's college basketball landscape; however that does not make it any less valuable. In fact, it makes it more valuable as Duke has what few other teams have – two proven senior leaders in All American candidates Kyle Singler and Nolan Smith.
Coach Krzyzewski discussed Singler after the victory over Oregon in Portland: "I'm very proud of Kyle. Today was a special day for him. He is truly one of the special kids I've had the opportunity to coach at any level. He has a warrior's spirit. He's all about winning and playing hard and I love the way he performs. He's never nervous. He's the same all the time. He never has a play in a game or in practice when he's not working hard. He's what I call a no-maintenance guy."
Nolan Smith is currently number eight on statistics guru Ken Pomeroy's list of contenders for the 2011 Player-of-the-Year Award.
During the St. Louis post game press conference, Associate Head Coach Chris Collins stated, "For Nolan to get back, I mean he didn't have a field goal against Bradley the other night, but he played a good floor game. For him to come back today and have the six rebounds, five assists but also get 22 points at the point guard position, I thought was really good."
Last season's run to the national championship demonstrated the utility of senior leadership as Scheyer, Thomas and Zoubek combined to be a steadying influence upon the Blue Devils during the stretch run. In 2009, North Carolina won the championship with senior Tyler Hansbrough as their key player. Kansas started two seniors and two juniors in 2008 when they won the national championship, and when the Florida Gators repeated as national champions in 2007, they started a senior and four juniors.
There seems to be a pattern here and the pattern is experience is King come March and April. The experienced leadership on Duke's roster in 2011 will provide the Blue Devils a decided advantage once the post season arrives. Singler and Smith are two of the best players in the nation.
Duke is deep and talented.
The roster contains five McDonald's All Americans: Kyle Singler, Nolan Smith, Mason Plumlee, Ryan Kelly and Kyrie Irving. However, other players on the roster earned accolades prior to arriving in Durham.
Freshman Tyler Thornton was the Washington D.C. Gatorade Player-of-the-Year while fellow freshman Josh Hairston was the Maryland Gatorade Player-of-the-Year. After the St. Louis game, Associate Head Coach Chris Collins commented on the play of Thornton and Hairston, "I mean we felt great when the guys came off the bench. I mean Josh Hairston and Tyler Thornton did a great job, especially in the second half. They hit us with a little run to start the half. We weren't as happy with our energy coming out of halftime. We went to our bench and those guys played great."
Prior to transferring to Duke, Seth Curry was the Big South Conference Freshman of the Year.
Andre Dawkins skipped his senior year of high school and enrolled at Duke early so he missed out on the opportunity to be named as a member of the various All American teams. However, he was a two-time first team NCSAA All-American.
Duke has all the requisite pieces required to be a champion.
It takes more than talented players to win a championship. It takes the right mix of players who complement each others game. A championship team needs perimeter players and inside players, jump shooters as well as players who can attack the rim, rebounding specialists and defensive specialists. Chemistry is vital to building a championship team.
Duke's roster contains all of those individual pieces.
The freshman to sophomore jump is alive and well in Durham.
Andre Dawkins was inserted into the starting line-up for the Bradley game in response to Irving's toe injury. Dawkins responded by scoring 28 points on 8-14 shooting on 3-pointers. After the game, Coach Krzyzewski stated, "It's great; I hope it's not a passing fancy. Andre has been, and I said it last week, Andre has been as consistent as anybody we've had this season including Kyle and Nolan and Kyrie. Andre has been solid, just really solid and was hitting with a limited amount of shots."
Dawkins currently leads the ACC in 3-PT FG percentage at .536 and is averaging 12 points per game.
Mason Plumlee is averaging 8.3 points and 7.7 rebounds per game. Against Michigan State, in the ACC-Big Ten Challenge, Mason played 35 minutes, having five steals, to go along with a 10 points, 10 rebounds double-double. Coach Krzyzewski praised his performance, "Mason had to play 35 minutes with the foul trouble we had and they kept alternating bigs and Mason got a double-double and five steals. As obviously sensational as Kyrie was, quietly Mason was outstanding, he was outstanding."
Mason's high scoring game so far this season was against Marquette when the 6'10 big man exploded for 25 points on 12-16 shooting from the field. Additionally, he recorded 12 rebounds and five blocked shots. Mason leads the team in blocked shots.
Ryan Kelly scored a career high 13 points in the most recent game against Elon. Kelly is a versatile player with advanced passing skills and solid shooting ability. He has demonstrated rebounding and shot blocking skills as well. As his playing time increases, his game will continue to develop. Kelly is much better now than he was as a freshman, and he will most likely be much better in March compared to December.
Seth Curry is the fourth sophomore but he is two years removed from his freshman season due to sitting out last season after his transfer to Duke from Liberty. Curry has been a little inconsistent at times this season but he has demonstrated a solid shooting stroke and excellent wing defense skills. Curry has second most steals on the team behind Singler.
This team still needs to develop in several areas.
Duke is 11-0 and the unanimous number one ranked team in the country. The ACC schedule kicks off next week when the Miami Hurricanes visit Cameron Indoor Stadium, and with the conference schedule comes games against teams, and perhaps more importantly coaches, who are intimately familiar with the Blue Devils. Things are going to get tougher in January and February before the real test of March and hopefully April arrives. This Duke team is deep and talented with the senior leadership that provides an unlimited upside, so 2011 has the potential to be another great year, but everyone knows there is a lot of work to be accomplished over the next three and a half months.
Every team has to develop their unique identity but this year's team has been thrown a curve ball with the injury to Irving. Therefore, a need exists for the team to rediscover who they are specifically in regard to playing style. Will the team continue to apply maximum pressure on the perimeter with an emphasis on creating turnovers? Or will they revert to last season's style, which focused upon rebounding? On offense, will they push the ball at every opportunity? Or will they look to become a dominant half court offensive team?
There are a lot of questions and the answers will be forthcoming over the next month, all one has to do is watch. Coach Krzyzewski is a master at transforming a team.
Free throw shooting is another area where the team could improve. Duke is shooting .743 as a team; however, Mason Plumlee (.417), Miles Plumlee (.611) and Josh Hairston (.538) all have room to improve. In a close game, the ability of these players to convert from the free throw line could the decisive factor.
With 2011 literally just around the corner, it is time for Duke fans to sit back and enjoy the ride as Coach Krzyzewski and the Staff lead the Blue Devils in their pursuit of excellence. No one knows how the season will end, but it is apparent the 2011 Duke Blue Devils have all the pieces in place to make a serious run toward Houston and another national championship.