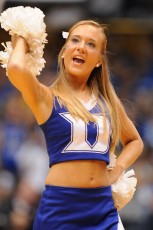 Welcome to another edition of Monday Musings despite the fact that you probably have the Monday Blues after the Blue Devils lop sided loss to St. John's.
Perspective
I'm not about to tell you that Duke doesn't have some major concerns after their flat performance against a fired up St. John's team.  But I will mention that they tend to bounce back under Krzyzewski and ask you to recall their loss to Georgetown last year.  Now before you say St. John's is not in their league, look at their wins against the same Georgetown team, accompanied by Notre Dame and West Virginia this season.  And might I remind you that Duke was 17-4 lat year after 21 games  as opposed to 19-2 this season?  The only way you get better is to be humbled enough to regain the hunger it takes to win.
Football Signing Day
This Wednesday is signing day for Duke Football and BDN will be on the scene to report on the future Blue Devils players.  The general public can also meet with Coach Cutcliffe and his staff and get a bite to eat, hear about the players  and you can get your tickets for the event here.  The Blue Devils also held their junior day and Patrick Cacchio will be reporting on the new names to be on the look out for next season.
Measuring Stick for the Duke Women's Team
The Duke Women's Basketball team puts their undefeated record on the line when they travel to play Connecticut.  What a test this will be for the Blue Devils have a chance to see how they measure up against  Gino Auriemma and Maya Moore in a hostile environment.  It'll be of vital importance for the team to not play on their heals and believe they can win.  And as always, the play of Jasmine Thomas will be important but it's here supporting cast that has to get it done.  Should be interesting, so tune in tonight
Next up Maryland
Duke travels to Maryland this Wednesday to take on those pesky Terrapin's and their rabid fans in a 9:00 game on ESPN.  Maryland has won three straight games including a 74-63  road victory against Georgia Tech last evening and that pushes their season record to 4-3 in the ACC and 14-7 overall.  Maryland will be hungry to take on a Duke team coming off a decisive loss and a win would not only put them back into the conference race, it would boost their resume come seasons end.
Three NBA Dukies Help Lead Their Teams to a Win
Grant Hill helped Phoenix gain a 104-102 win over New Orleans by knocking down 7 of 10 shots which translate into 16 points the second most on the Suns team.  Meanwhile JJ Redick had 17 in Orlando's blowout win over Cleveland.  Rounding it out was Elton Brand nailed 6 of 7 shots for 15 points as Philadelphia dropped Denver 110-99.