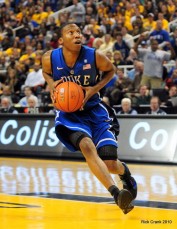 Game 19:
 Duke (17-1, 4-1 ACC) 
vs. Wake Forest (7-12, 0-4 ACC) Saturday, Jan. 22, 2011 4:00 p.m. Lawrence Joel Coliseum, Winston-Salem
The Opening Tip
- Duke faces Wake Forest on Saturday, Jan. 22 at Lawrence Joel Veterans Memorial Coliseum in Winston-Salem, N.C. Tipoff is set for 4:00 p.m.
- The game is being televised by ESPN with Mike Patrick (play-by-play) and Len Elmore (analyst) calling the action.
- Duke is ranked No. 4 in the AP and No. 5 in the ESPN/USA Today Coaches Poll, while Wake Forest is unranked in both polls.
- The Blue Devils are looking to improve to 18-1 for the 11th time in school history. Duke has reached 18-1 in three of the last five seasons.
- Duke has won 35 of the last 37 games entering Saturday's game with Wake Forest.
- Duke is looking for its 24th straight win in the state of North Carolina.
Duke-Wake Forest Series History
- Saturday's game marks the 235th meeting between Duke and Wake Forest, making it the most-played series in the ACC.
- The Blue Devils lead the all-time series 157-77, but trail 10-9 at Lawrence Joel Coliseum.
- Duke's last 12 wins in the series have been by 10 or more points.
- Duke has dropped two straight games in Winston-Salem and five of the last six contests at the LJVM Coliseum.
- Mike Krzyzewski is 55-16 at Duke against the Demon Deacons.
- The Blue Devils have won 22 of the last 27 meetings between the two schools.
- Duke and Wake Forest met for the first time on March 2, 1906.
Numbers Game
- Mike Krzyzewski is one of seven coaches in ACC history with a winning percentage above .500 in league road games. Coach K's .608 road winning percentage ranks fourth all-time, while his 135 career road wins are an ACC record.
- Duke has won 23 consecutive games in the state of North Carolina. The Blue Devils' last loss in the state was at N.C. State on Jan. 20. 2010.
- The Blue Devils have had at least one player score 20 or more points in 13 straight games.
- Duke has collected 40 or more rebounds in four of the last five games. The Blue Devils are averaging 41.3 rebounds in six January games.
- The Blue Devils rank fourth in the NCAA in scoring at 85.9 points per game. Duke is 17-0 on the year when scoring 70 or more points in a game.
- Nolan Smith leads the ACC with nine games with 20 or more points scored. He has topped the 20-point mark in eight of the last 11 games and three times in league play.
- Sophomore Mason Plumlee has raised his rebound average by 5.5 rebounds per game from a year ago. He ranks fourth in the ACC in rebounding at 8.6 rpg. Plumlee ranks second in league play with 11.2 rpg. and 7.6 defensive rebounds per game.
- In conference play, senior Nolan Smith leads the ACC in scoring (23.2 ppg.), assists (6.0 apg.), steals (2.4 spg.) and minutes played (39.6 mpg.). He also ranks fourth in free throw percentage (.935) and ninth in field goal percentage (.443).
- Duke post players Josh Hairston, Ryan Kelly, Mason Plumlee and Miles Plumlee combined for 31 points, 28 rebounds (13 offensive boards) and eight blocks in Wednesday's win over N.C. State.