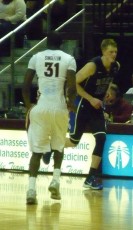 TALLAHASSEE - The Florida State Seminoles defeated the Duke Blue Devils 66-61 in Tallahassee. Derwin Kitchen had a huge second half for the Noles, finishing with 22 points on the night to lead all scorers.  Chris Singleton added 18, as the Seminoles knocked down their free throws in the final minute to seal the victory.
The Blue Devils got off to a cold start, shooting 0-10 from 3 before Ryan Kelly knocked one down halfway through the first half. Kyle Singler finished with just 2 points in the first half, but rallied with a big second half to lead the Blue Devils' scorers with 20 points and 8 rebounds. Nolan Smith added 19 for Duke, who shot just 31% from the field overall. Mason Plumlee added 14 rebounds for the Blue Devils, but struggled with foul trouble throughout the game, eventually fouling out in the final minute.
Florida State closed out the first half on a 7-0 run to take a 28-24 lead into halftime. The Seminoles extended their lead to start the second half, energizing the crowd and forcing a timeout by Coach K with 16:28 remaining. Duke would then go on a run of their own, sparked by an aggressive half-court trap defense and capped off by three free throws by Andre Dawkins at the 11:46 mark to tie the game at 42. A few minutes later, Chris Singleton would head to the bench with his fourth foul, but Kitchen was able to carry the offensive load for the Seminoles. Kitchen got the shooter's bounce on a 3 and then converted a traditional 3 point play to put the Seminoles up for good. Nolan Smith would hit a 3 at 2:26 to cut the lead to 1, but Florida State refused to buckle.
The Florida State fans, who were loud throughout the second half, stormed the court in victory.  The loss drops Duke to 2-1 in the ACC and 15-1 overall while Florida State improves to 12-5 overall with a 2-1 conference mark.