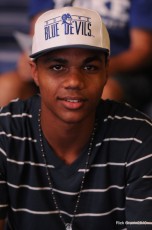 Go ahead and mark your calendars for February 11th for on that day you'll get a chance to see three of the four future Duke players in the Class of 2011 play in Cameron Indoor Stadium.  Scholastic Play by Play Classics has arranged for a double header in Cameron where Oak Hill Academy led by Quinn Cook will take on Christ School and Marshall Plumlee at 7:30, followed by a 9:00 game featuring Michael Gbinije and St. Benedictine versus Our Savior of New York.
Micheal Gbinije was the first of the trio to commit to Duke, followed by Marshall Plumlee and then Quinn Cook.  The three round out Duke's 2011 recruiting class which also features Austin Rivers of Winter Park High School in Florida.
Gbinije is  smooth, well rounded wing which Krzyzewski hinted could play right away in a role at Duke over the summer.  Marshall Plumlee is the starting center for Christ School which of course produced his brothers and current Duke players Mason and Miles Plumlee.  Cook is a point guard who plays storied Oak Hill Academy.
Other prospects of note include future St. John's player, junior Jevon Thomas and another junior big man in Chris Obekpa who lead a tough Our Svior of New York squad.
Tickets for the event will be $15.00 at the door and they can be pruchased in advance  by going here.  The group will also sponsor an event at the Dean Dome the following evening where locals can see future Tar Heels James McAdoo and P.J. Hairston.
Stay tuned to Blue Devil Nation for more on the event and as always, we'll be on the scene to bring you complete coverage.