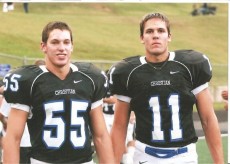 In 2010, freshman linebacker Kelby Brown was one of the brightest stars on the Duke defense, finishing the season 3rd on the team in tackles, 2nd in sacks, and leading the ACC with four fumble recoveries. Unfortunately, Kelby's season was cut short by a knee injury, but after a successful offseason surgery, the Blue Devils plan for him to be ready for the season opener against Richmond on September 3.
Duke fans are hoping to see Kelby joined on the field by his brother, Kyler, a 6'4" 215 pound defensive prospect from Charlotte Christian High School. With the recent departure of co-defensive coordinator Marion Hobby, some fans have feared that Duke's 2011 defensive prospects may begin to look elsewhere. Blue Devil Nation recently spoke with Kyler to learn about his senior season and where he stands with his commitment to Duke.
BDN: Can you give us a brief recap of your senior season?
I felt like we had a pretty good season. Even though we finished 6-5, the games that we lost were all really close except for one. We did pretty well and I did pretty well. The other teams ran away from me a lot, but I still did get some tackles in, I think I got 103, so it was a pretty good year and lots of fun.
 BDN: In what areas do you think you improved the most from your junior to senior year?
I think, well, we had great coaches and everything in high school even. They taught me a lot this year and I've been getting a lot of fundamentals down and stuff. I still need to learn that obviously, because I mean everybody does. Also, just my knowledge for the game is increasing. I watched a lot of film this year of the other teams and of myself and the rest of my team. My knowledge has increased a lot. Also, my strength – I've gotten a lot better on that with lifting and everything.
BDN: How much were you able to follow your brother and the Duke program and what are your thoughts on their season?
Well, I thought it was not as good as we'd hoped, but I mean, I can count off at least five games that we lost that were all really close. I think four of those we definitely should have won, and it just came down to either the last second or some mistakes in the fourth quarter. Otherwise, we had a great year, I thought. The coaches are doing wonders in upgrading the team and improving Duke football.
 BDN: Can you talk a little about your relationship with the coaching staff and how much you've been in contact with them?
I've been up to Duke a couple times, I actually don't know how many times exactly, but I've seen all the coaches there. And I've also had the coaches come to visit and we had a good time, good talks and everything. My relationship with Coach Cut is awesome, he's a great coach. My recruiting coordinator is Coach Lubick and he's been great.
 BDN: What are some of the things you've talked to the coaching staff about? What do you expect your role to be on the Duke defense?
As far as redshirts go, we don't know whether I'm going to be able to redshirt or not. It was the same thing with my brother last year, they had no clue. They decided at the beginning of the year that they were going to redshirt him, but keep him around in case they needed him. He eventually made his way to starting, so you never know. You never know what's going to happen. I'm either going to be a defensive end or an outside linebacker, or maybe just a dropdown linebacker or a pullback defensive end – just more of a hybrid of those two positions. I'll be able to mix in between those two.
BDN: You mentioned your brother and I know Duke fans were excited with the season he had for Duke. What have you been able to learn from his experience and what to expect as you make the transition to the college game?
Speed. He mentioned how fast it is compared to high school and that you just have to give it your all every single play. You have to be able to just play fast, even if you don't react fast enough, you just have to deal with it and adjust. Also, a big thing is just shedding blockers at linebacker and at defensive end. He's talked about how you just have to be quicker than them, have better hands than them, and just keep them off you as much as you can. It's all just great advice from him.
 BDN: What are your plans between now and signing day and for the rest of your senior year?
Well, right now I'm not playing a sport. I'm just lifting hard, as hard as I can, getting strong and keeping my conditioning up. Playing basketball a little bit, playing some pick up games, and really not much besides that. The big thing is lifting right now and I'm also putting on weight, so that's also good. For visits, they have a banquet for the football players this weekend, so I'm going up there for my brother and with the team and do that. I think we're going to go to a [Duke] basketball game and then later I'm going to go to the NC State basketball game with one of the kids in my class.
BDN: When are you planning to enroll at Duke?
I'm thinking about more of the second shift at the beginning of July.
BDN: I know Duke fans are really looking forward to it. Thanks a lot, Kyler. Safe travels to Durham and best of luck with the rest of your senior year.
Alright. Thank you, good talking with you.
The Blue Devils will host several prospects on official visits this weekend and BDN will have more football coverage coming all next week.