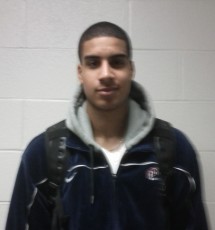 At 6'7," Richard Lucas was an undersized center, who averaged fifteen points and nearly ten rebounds per game for Don Monson and the Oregon Ducks as a senior in the early 1990s, while battling routinely against bigger players at his position in the Pac-Ten. His reputation was that of a player willing to bang inside and out-hustle his competition on the glass, dive for balls, and sprint down the court, which made him a crowd favorite and had the Oregon faithful chanting "Luuuuke."
Now, nearly twenty years later, Landen Lucas is a 6'9″ junior reserve post player for national power Findlay Prep. In late July, he decided to leave the comfort of home in the Portland area and nearby Sunset High School, in order to spend the next two years working on individual skill development, preparing his frame for college basketball, and getting used to studying away from home. The decision has paid early dividends, as Landen lost a significant amount of weight immediately and has seen his recruitment heat up, with defending National Champion Duke University has begun contacting him and evaluating whether there is a fit.
Blue Devil Nation watched him at the Pangos All-American Camp in Long Beach in June, caught one of his games for the Northwest Panthers at the Super 64 in Las Vegas in late July, and recently watched him play twice at the Hoop Hall Classic. After his last game at Springfield College for the Hoop Hall Classic, BDN spoke with this son of an English professor about Duke's recent interest in him, his development and competition at Findlay, why he looks at the unique pairing of Tim Duncan and Dennis Rodman as basketball role models, and the attributes he shares with his father.
Let's start off by talking about the transition to Findlay.
You know it was a big transition and it would be anytime someone goes from normal high school basketball to prep school basketball, let alone to Findlay. It's just a big jump, even in practice. It really took a few weeks to get used to everything and settle in, but now it's fine.
Do you live in the much discussed players' house?
No, I actually live with Nigel. We're both from Portland so that helps.
Was it a big deal for your family, you know, you



Sorry, but you must become a premium subscriber to view the rest of this post.

Join now by visiting the PREMIUM MEMBERSHIP link at the top of the page, where you can learn more about the benefits of a Blue Devil Nation Premium membership.