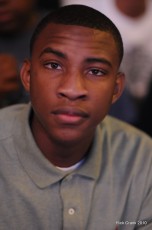 One of the kids the Duke Coaches visited over the holiday break was Rasheed Sulaimon, of Strake Jesuit Prep in Houston, Texas. 
Sulaimon is a 6-3, 185 guard who possesses a smooth game and a solid basketball skill set.  Many have compared him to former Duke star Daniel Ewing.
Sulaimon talked with Duke Coach Mike Krzyzewski over the weekend and an official offer was made to the 2012 standout. Krzyzewski took in Sulaimon's holiday games as did Duke Assistant Coaches Steve Wojciechowski and Nate James.
Sulaimon has said in the past he was working on a list of ten schools and since last season, his suitors continue to grow on a steady basis. 
The Texas shooting guard caught our eye in the AAU season at a time when Duke was looking at his teammate, PG L.J. Rose. 
Sulaimon has a nice pull up jump shot which is becoming a lost art in basketball of late.  Versatility is at a premium when describing his game and he's very quick on his feet giving him a nice first step.  Sulaimon has the ability to play good on ball defense and he is aware of of to get into passing lanes.
Sulaimon joins Alex Murphy, Tony Parker and Shabazz Muhammad as 2012 prospects with offers. 
The top rated prospect visited Duke for Countdown to Craziness in October of 2010.
When questioned about that visit, Sulaimon told BDN, "They are really great people, all of them from Coach K to the rest of the staff.  I felt they were really genuine people. Coach K is really a tremendous coach with all of his accomplishments; it was almost weird speaking with him face to face because he is so great. I got a really great impression of them from the visit."
We'll have more on Sulaimon on Blue Devil Nation Premium.  Gain full site access today by joining and discuss the latest recruiting happenings with our members.