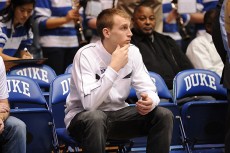 Duke landed one of the top swing players in the country when Alex Murphy decided to go ahead and make Durham his destination for his college basketball playing career.  The St. Mark's marksman sat down with his family yesterday and came away knowing he wanted to play for Mike Krzyzewski in Durham. 
His visit to Durham just weeks ago helped Murphy know he was at home,  "In the pre-game I was standing right under the basket with Kyrie Irving and the guys behind me were chanting, "Come to Duke," and as soon as the game was over, they continued to show love.  I kind of kept my head down but when they cheered my name I looked up and it was kind of cool.  It was a great experience," said Murphy.
More to come on BDN!