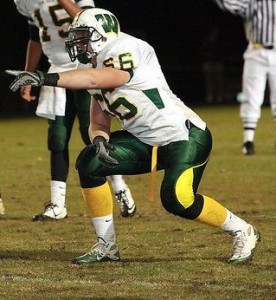 Duke kicked off the 2012 recruiting season this past weekend with the first of two Junior Days in Durham. Over 100 prospects made the trip to campus and most came away impressed with the Blue Devil program. BDN kicks off our coverage of the class of 2012 with a series of interviews with the weekend's visitors.
Andrew Maddox is a 6'5" 270 pound offensive lineman from Woodbridge, Virginia. Although he's high on UVA early, he visited Duke last weekend for junior day and came away impressed. Highlights of Andrew's junior year can be viewed here.
BDN: Can you start off by describing the strengths and weaknesses of your game for someone who hasn't had a chance to see you play?
I would have to say that my strengths on the field…I have good footwork and I think I'm pretty strong so that helps out with run blocking and stuff. I think my weaknesses, I think would be my hand placement. I have to work on that some when it comes to run blocking.
BDN: What are some of the goals you have for yourself and your team this fall?
My goals individually are to really cut down on tackles in the backfield on my side, really make my side the strong side. I think for my team, I would really like to get back the first round of the playoffs because these last two years that I've been on varsity, we've lost the first game we played in the playoffs. I'd really like to get past the first round.
BDN: What are the most important things you are looking for in a college?
Definitely the academics, that's going to be a major one. And I'm also going to look at playing time, which is another big one. And like the size of the school. I'm not really wanting like a super-small school, I'm looking more for a school that has a lot of people and that kind of stuff.
BDN: What schools have you recently heard from? Who was the first school to contact you?
Definitely at the top of my list is UVA. I've been in contact with them for quite awhile now and I've gone down for a football game in the fall and I'm about to go to their Junior Day in February. Also, Richmond I'm really looking at; I've been talking to them a lot too. And after I just went to Duke's Junior Day I was really impressed with them and they're on the top too. I'm also talking to East Carolina, and OD [Old Dominion].
BDN: Other than UVA's Junior Day, do you have any additional visits or camps planned?
I'm definitely going to be doing camps once they start happening. I'm definitely going to go to UVA's 1-day camps, probably a couple of those. I know Richmond is having a 1-day big man camp kind of thing in June, and I'm definitely going to attend that. I'm also going to attend just like college camps, 1-day camps and that kind of stuff.
BDN: It's still very early in the process, but ideally, when would you like to make your college decision?
To be honest with you, right now I'm just going to see how it goes.
BDN: Is there anything else you think is important for ACC football fans to know about you?
Well, just to let anyone know that I want to go to a college that wants me and that I can contribute the most to. Wherever I go, I'll work the hardest and contribute the most of my abilities to the team.
BDN: Thanks a lot, Andrew and best of luck to you.
Yeah, no problem. Thanks for calling me.