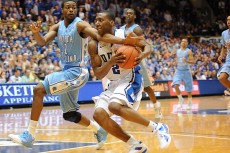 Game 28[1 AP / 1 Coaches] Duke (25-2, 12-1 ACC)  vs. [24 AP / 24 Coaches] Temple (21-5, 11-2 A10)
Wednesday, Feb. 23, 2011 • 7:00 p.m.
 
The Opening Tip• Duke (25-2, 12-1 ACC) hosts Temple (21-5, 11-2 A10) on Wednesday, Feb. 23 at Cameron Indoor Stadium. Tipoff is set for 7:00 p.m.
Follow Blue Devil Nation Twitter for live game coverage from press row in Cameron Indoor Stadium.  Send us your game prediction, be the closest to the score and win one month premium site access, a 12.95 value.

• The game is being televised by espn2 with Rece Davis (play-by-play), Bob Knight (analyst) and Jeannine Edwards (sideline) on the call.
• Duke is ranked No. 1 in the AP Poll and ESPN/USA Today Coaches Poll, while Temple is ranked No. 24 in both polls.
• Duke has won 43 of the last 46 games entering Wednesday's game with Temple. The Blue Devils have won 20 of their 21 contests against non-conference opponents in that span.
• The Blue Devils are looking for their 19th straight win in the month of February. Duke's last loss in the month was on Feb. 15, 2009 at Boston College.
 
Duke-Temple Series History• Duke and Temple have met 26 times heading into Wednesday's game with the first meeting between the two schools coming in 1931.
• The Blue Devils lead the all-time series 17-9, including a 7-1 mark at Cameron Indoor Stadium.
• Duke has won eight consecutive games and 14 of the last 17 in the series.
• Mike Krzyzewski is 10-1 at Duke against the Owls. The Blue Devils are 4-0 against Temple at home under Krzyzewski.
• Duke has won seven consecutive games at Cameron Indoor Stadium in the series.
• The two teams have met twice in NCAA Tournament play with Duke reaching the Final Four with wins over Temple in 1988 and 1999.
• Five of the last eight games in the series have been decided by 10 points or more.
 
Numbers Game
The Blue Devils' current 34-game win streak at Cameron Indoor Stadium is the longest active streak in the country and the fourth-longest home win streak in program history.
The Blue Devils have won an NCAA-best 85 consecutive non-conference home games. The last home loss against a non conference opponent for the Blue Devils was on Feb. 26, 2000, against St. John's, 83-82. 
Duke has won 40 consecutive games against teams outside the traditional power conferences (Big Ten, Big East, SEC, ACC, PAC 10, Big 12). Virginia Commonwealth's 79-77 win over Duke in the 2007 NCAA Tournament was the Blue Devils' last loss to a team from a non-power conference.l Duke has only lost two home games in the past four seasons, posting a record of 63-2 in Cameron Indoor Stadium during that span.
Duke has won 28 consecutive games in the state of North Carolina. The Blue Devils' last loss in the state was at N.C. State on Jan. 20, 2010.l Nolan Smith is attempting to become the first player in ACC history to lead the league in scoring and assists. Smith is currently averaging an ACC-best 21.7 points and 5.3 assists per game.
Seth Curry is averaging 12.5 points, 3.3 rebounds, 3.8 assists and 2.0 steals over the last six games. He is 14-of-30 (.467) from three-point range and has a 3.29:1 assist-to-turnover ratio in that span.
Nolan Smith is one of three players in the NCAA averaging over 20.0 points and 5.0 assists per game.
Kyle Singler is five points shy of moving into the top 15 of the ACC career scoring chart. Singler currently has 2,221 career points.