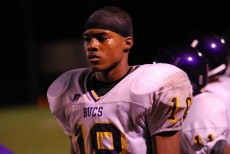 M.J. Salahuddin is a 6'3" 195 pound safety from Fayetteville, North Carolina. In his junior year, M.J. helped lead Jack Britt to the second round of the state playoffs, recording 79 tackles, 3 sacks, and an interception. Highlights of his interception can be viewed here. A talented athlete who also plays basketball and runs track, M.J. has attracted the attention of coaches throughout the Carolinas. After visiting Durham in the fall for a game, M.J. made a second trip for Duke's Junior Day in January.
BDN: Can you start off by describing the strengths and weaknesses of your game for someone who hasn't had a chance to see you play?
My game is basically, as a safety, I try to be the deepest man, not let anybody get behind me. I try to read the quaterback a lot and I like to come up and make a lot of tackles, kind of when I play as a linebacker.
BDN: What are some of the things you have been working on this offseason?
This offseason I've mainly been working on change of direction. Because when I go to camps, that's mainly all they talk about is change direction. How quickly can you change direction and keep focused. I'm also working on putting on a little weight for next year, and my legs, trying to get faster.
BDN: What are some of the goals you have for yourself and your team this fall?
Our goal this past year was obviously state, but we came up short in the second round. That will definitely be another milestone for us next year. I just want to be a leader, a vocal leader, and try to take us back to state next year, my senior year.
BDN: What are the most important things you are looking for in a college?
What I look for in a school is the academics, because I'm very interested in the academics. I look at how many seniors they have on their team at my positon and if I'm going to get a chance to play or not. And I look at the campus – see how nice that is. I definitely like taking hands-on visits with my family, from there I go with my parents and making a decision.
BDN: You mentioned academics as one of the top things you're looking at; is there a particular field you are interested in?
I'm almost leaning towards education right now, going into the teaching field. If that doesn't work out, because I'm an athlete, I'd love to work with athletes in sports medicine or something along those lines.
BDN: What schools have you recently heard from? Who were the first schools to contact you?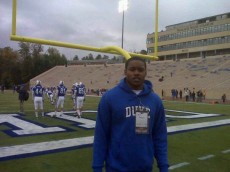 The first school that I came in contact with was Clemson, through Eric MacLain. I took a visit there with him. Then I went to ECU and then I went to Duke. NC State invited me but I didn't get a chance to get up there, I was busy that weekend. I definitely want to take more visits, open up my options and go from there.
BDN: Do you have any plans for other visits this spring or summer?
I want to go to the three schools I just named, and I want to go to the NC State camp, they invited me. The Duke camp, ECU camp, Clemson camp. Wake Forest just started sending me letters, so I'll try to go to something up there.
BDN: It's still very early in the process, but ideally, when would you like to make your college decision?
Hopefully I can start getting offers soon, as soon as September rolls around and then from there I'll just start going through my options, talk with my family, see what they like, see what I'm interested in, and probably make a decision. I'll definitely probably wait it out, I won't commit right then and there.
BDN: Is there anything else you think is important for ACC football fans to know about you?
As a player, I'm basically just a great leader. I love to work, I love to help my teammates succeed. I just want to be the best, I'm a competitor, it's in my blood, it's in my family. School-wise and personality-wise, I'm just out of the box. I love to have fun with my team, just be around football basically. I'm very coachable, I love to listen and learn and then react on that.
BDN: Those traits will all certainly serve you well. Thanks a lot, M.J. and best of luck to you.
Thank you, I'll definitely keep in touch. Thank you for the opportunity.