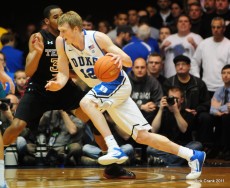 Game 30[4 AP / 4 Coaches] Duke (26-3, 12-2 ACC)  vs. Clemson (19-9, 8-6 ACC)
Wednesday, March 2, 2011 • 9:00 p.m.
 
The Opening Tip
• Duke (26-3, 12-2 ACC) faces Clemson (19-9, 8-6 ACC) on Wednesday, March 2 at Cameron Indoor Stadium. Tipoff is set for 9 p.m.
• The game is being televised by ESPN with Mike Patrick (play-by-play), Len Elmore (analyst) and Jeannine Edwards (sideline) calling the action.
• Duke is ranked No. 4 in the AP Poll and ESPN/USA Today Coaches Poll, while Clemson is unranked in both polls.
• Duke has won 44 of the last 48 games entering Wednesday's game with Clemson. The Blue Devils have won 16 of their last 18 contests against ACC opponents.
• Wednesday's game marks the final home game for seniors Kyle Singler, Nolan Smith and Casey Peters. Duke is 64-2 at Cameron Indoor Stadium over the last four years.
 
Duke-Clemson Series History
• Duke and Clemson have met 131 times heading into Wednesday's game with the first meeting between the two schools coming in 1926.
• The Blue Devils lead the all-time series 102-29, including a 55-4 mark at Cameron Indoor Stadium.
• Duke has won two straight games and 24 of the last 26 in the series.
• Mike Krzyzewski is 48-11 at Duke against Clemson, including a 26-1 mark in Durham. Coach K was sidelined with a back injury during a home loss to Clemson on Jan. 4, 1995
• Duke has won 13 consecutive games at Cameron Indoor Stadium in the series.
• Eight of the last 10 games in Durham have been decided by 10 points or more.
• Duke has held Clemson to 50.0 points per game over the last two contests.
 
Numbers Game
Duke has been ranked in the top 5 of the AP Poll for 21 consecutive weeks.l The Blue Devils' current 35-game win streak at Cameron Indoor Stadium is the longest active streak in the country and the fourth-longest home win streak in program history.
Duke has only lost two home games in the past four seasons, posting a record of 64-2 in Cameron Indoor Stadium during that span.
The Blue Devils have won 29 consecutive games in the state of North Carolina. Duke's last loss in the state was at N.C. State on Jan. 20, 2010.
Duke has won 55 straight home games against unranked opponents. The Blue Devils' last loss at Cameron Indoor Stadium to an unranked opponent was to Florida State on Feb. 4, 2007.
The Blue Devils are 15-2 following a loss over the last four seasons. Duke has not lost back-to-back games since the 2008-09 season.
Duke has not lost back-to-back games against unranked opponents since falling at Wake Forest and Miami in February of 2008.
Nolan Smith is averaging 21.3 points, 4.9 rebounds and 5.2 assists per game. He is attempting to join Dick Groat (1951-52) as the only players in Duke history to average over 20.0 points, 5.0 rebounds and 5.0 assists per game for a season.
Kyle Singler is 38 points shy of moving into the top 10 on the ACC career scoring chart. Singler currently has 2,271 career points and is 20 points shy of moving into 11th place in ACC history.
Mason Plumlee is averaging 9.4 points and 9.3 rebounds per game over the last eight contests. He is shooting 70.8 percent (34-of-48) from the field in that span.