In their three-plus years in Durham, Head Coach David Cutcliffe and Offensive Line Coach Matt Luke have built the Duke offensive line into a position of strength. The past two recruiting classes have brought in a very good group of offensive linemen, and the Blue Devils hope to continue that trend with the class of 2012. Josh Hess is a 6'7" 285 pound offensive lineman from Richlands, Virginia. As a junior, Josh played on both the offensive and defensive line, helping Richlands to  the state championship game, and was named to the All-State, All-Region, and All-District teams. Highlights from Josh's junior season can be viewed here.
BDN: Can you start off by describing your strengths for fans who haven't had a chance to see you play?
Personally, I think I'm hard-nosed, I like driving people off the ball, that's what I do.  I'm a pretty good pass blocker, in my opinion, and I do whatever it takes to win.
BDN: What are some of the things you have been working on this offseason?
I dropped a couple pounds.  I'm down to about 285 right now, and I've just been working on my lateral quickness, and just speed in general.
BDN: What are some of your goals for your senior year?
I want to go back to Lynchburg and play for another state championship, and come out winning next one.  I'd like to make all-state again, all-region, all-district.
BDN: As you look at your college decision, what are the most important factors you are looking for in a school?
Education would have to be the first one.  I'm big on academics, and so is my family.  And then just the school itself.  I like football tradition, and how the football program's going.  I'd like to go in and help a program out if they're down, and if they're a program that's winning, to go in and keep it going.
BDN: Is there a specific academic field you are interested in?
Kinesiology, so the study of – it's like athletic training, stuff like that, and how the muscles and stuff work.
BDN: Which schools have you heard from the most? Who were the first to contact you?
Duke, UNC, Maryland, Virginia Tech, UVA, Florida, Boston College.  There's a lot of SEC and ACC schools.
BDN: Are you primarily interested in ACC and SEC schools?
Well, it'd be nice to, but – I mean, as it comes down to it, I'll go anywhere that's within the United States.
BDN: Have you been able to talk with any schools about scholarship offers yet?
Really haven't talked about offers yet, but most of them are trying to get me down on campus, looking at stuff like that, invite me to a bunch of junior days and stuff, but not really talked about offers yet.
BDN: Have you had a chance to visit any schools so far?
I've only visited Duke, I went down there for junior day, but the end of the football season I went all over the place, I went to like Kentucky, Boston College, Duke, Virginia Tech, UVA, Alabama, I was all up and down the coast, pretty much.
BDN: Have any schools stood out to you at this point in the process?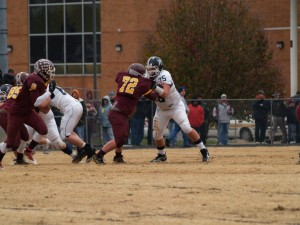 Not really, I like them all the same.  All of them had different things that I like about them.
BDN: Do you have any other visits planned for this spring or summer?
I'm going down to UVA for Junior Day, and I'll be at UNC after that.  And then I'm not sure about camps yet, I know I'm gonna go and visit a bunch more, I'm gonna go – Florida wants me to come down and watch spring practice and get out there and get on campus and talk to the coaches, so I'll probably end up doing that.
BDN: Do you have an idea for when you would like to make your college decision?
I might wait until the right school comes to me, but I mean, if the right school does come, it might be before football season.  But then again, I might just wait it out, wait until signing day or after the football season.
BDN: Is there anything else you think is important for college football fans to know about you?
I'm a good student in the classroom, I'm a hard worker, my motto when I leave the weight room everyday is leaving thinking that nobody outworked me that day.  That's about it.
BDN: Thanks a lot, Josh, and best of luck to you.
Sounds good, I appreciate it.  You too.