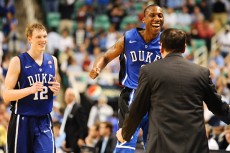 GREENSBORO - Duke knocked the Tar Heels back on their heels taking control of the ACC Championship game from the outset, but there would be no come from behind win today.  The Blue Devils defense locked down the Tar Heels holding them to 33.9% from the field.  Duke senior Kyle Singler held down Harrison Barnes as well.  Barnes put on a show in the tournament the day before scoring 40 points, but today he tallied just 16.
Duke had a very balanced attack on the offensive end with six players scoring 9 or more points.  They were once again led by Nolan Smith the tournaments most valuable player.  Coming into the game, no offense looked better than the Tar Heels, but Duke flipped them, shooting 50% from the field and knocking down 9 of 20 three point attempts.
The win pushed the Blue Devils record to 30-4 overall and they will go back to Durham, eat as a team and then watch to see where they will be seeded and headed in the coming NCAA Tournament.
In other news, Kyrie Irving told BDN he is working with the team, participating more daily and that he did not think there was a chance at a similar injury.  Irving seemed positive when asked if he would return to the court for the tournament and gave the distinct impression that he would.
The Blue Devils who were schooled down low in Chapel Hill, outscored North Carolina in the paint 32-30 and the bigs played very well.  In fact, the whole team played well and that was the main key to victory.  Duke had success running the ball as well when breaks were available and they held a 19-11 edge in scoring off turnovers.
Check back with BDN for continued coverage.  We'll have some videos up both today and tomorrow, so be sure to bookmark Blue Devil Nation for the best coverage on the web.