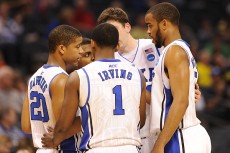 CHARLOTTE - Duke had no problem disposing of Hampton in their opening game of the NCAA Tournament in Charlotte, North Carolina.  When the dust cleared, the Blue Devils walloped Hampton by a 87-45 score, thereby advancing to play Michigan on Sunday afternoon.
The Blue Devils showed a great deal of balance in that ten players played 13 or more minutes.  But it was the return of Kyrie Irving that was the story of the game in that he has returned to the hardwood.  Irving as expected started slowly scoring on just two free throws in the first half.
He seemed a bit winded but that was likely from putting too much pressure on himself.  Once Irving settled in, he dazzled the crowd down the stretch of the game in the second half.  And if somebody had told you Kyrie would have led Duke in scoring before the game, you would have witnesses some blank stares.
But those who stared at you would have had wide eyes after the gaem, for it is official, Kyrie Irving is back and that means teams must now prepare differently for the Blue Devils.  Irving finished the game with a team high 14 points to go with 4 rebounds and a board in twenty minutes of play.
It was clear that some of his teammates deferred, such as Nolan Smith who took a mere seven shots, totaling 9 points.  But it was Smith who led the team in assists with 7 while having one turnover.  Smith allowed Irving to play off ball which helped his re acclimation to the game.
On this afternoon, all the Dukies contributed as they methodically took apart their out manned but game opponent.  One of the more impressive performers of the day was Miles Plumlee who has now put together four nice games in a row.  Miles grabbed a game high 13 rebounds while knocking down 3 of 4 shots for 8 points.
Miles brother Mason, chipped in 12 points of his own and grabbed 5 rebounds giving the brother combination 18 rebounds for the game.  And it was Andre Dawkins who took the most shots at 10, scoring 13 points, mostly beyond the three point arc. 
Seth Curry, the hometown kid, dropped in 3 of 5 three pointers for 9 points and Ryan Kelly added 6 points as well.  The Blue Devils shot a strong 53.3% from the field and 47.4% from beyond the arc as well as 44 points in the paint.
Krzyzewski was pleased with the performance as well, stating, "I thought we were very sharp for the entire 40 minutes.  When asked about Irving, Krzyzewski responded, "My focus is not on Kyrie, it's on our team."
If Coach K's team plays like they did today on Sunday versus Michigan, they'll be a tough out.  Kyle Singler added 11 points for Duke and media unfamiliar with the program asked if he was worried with the All American's performance.  Kryzyzewski said, "He's fine.  Kyle is all about winning.  There's no -- really, there's not a kid I've coached who is more about winning than him."
That was the beauty of today's performance from the Blue Devils, a game where they involved the entire team.  The bond is tight among this group and it'll have to remain that way if Duke is to make a run at the national title.  But if any one saw today's easy win, some might say Duke is back, but the truth is that they haven't gone anywhere, they just added Kyrie Irving back.
Box Score Link We're working on getting videos out, so check back shortly for more coverage of Duke in Charlotte from BDN.