Note – With all that has been going on in ACC and NCAA action, fell to the cutting room floor by accident, but it's worth a look even if it a couple of days late.  Kyle Anderson may well end up on the Duke radar. - m.w.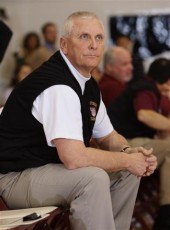 Once again, BDN was on the scene to witness some of the nation's top high-school talent as #1-ranked St. Patrick's took on #2-ranked St. Anthony's in high school basketball's mythical national championship matchup.
This game is often referred to as a "mythical" national championship because high school basketball does not have a season-ending national championship tournament – the team that finishes atop the poll at season's end is generally viewed as champion. This year is special in that the top 2 teams were both from NJ and wound up meeting in the state championship tournament, essentially deciding the national champion. (– providing the winner doesn't slip up in their handful of remaining games)
The game was played on Rutgers' home court at the Rutgers Athletic Center, commonly called the RAC. I daresay the atmosphere was more electric than any Rutgers home game this season. In fact, the game was completely sold out by 1pm and there were a number of hoops aficionados anxiously seeking tickets at the entrance.
On paper, St. Patricks should have won this game, possibly in runaway fashion. With Kentucky-bound top 3 ranked senior Michael Gilchrist, Western Kentucky-bound Derrick Gordon, and a host of highly regarded young players inside, they certainly held a talent advantage over the Friars. Not to mention, St. Anthony's has played in a number of close games this season, leading to hushed speculation that coach Bob Hurley's legendary stature helped artificially propel the team to such a lofty ranking. The Celtics were a clear favorite entering the game, but the Friar's most important edge was sitting on the sidelines… could Bob Hurley craft a sufficient game plan to outduel the top-ranked Celtics?
It didn't look good for the Friars early. Despite concentrating almost exclusively on interior plays during warm-ups, the Celtics came out hot from the perimeter – hitting three quick 3-pointers to jump out to an early lead. The crowd noise was about 60-40 in favor of St. Anthony's prior to tip, and the St. Patrick's student section taunted their suddenly silent demeanor with a "We Can't Hear You" chant as the early Celtic spurt quieted the Friar faithful. Almost in response to the mocking, the Friars closed the 1st period on a run of their own to climb back within six points.
The Friar rally continued into the 2nd quarter as potential Duke-recruit Kyle Anderson began to exert his influence onto the game. He had a very nice pump fake, up-and-under move in the post that completely fooled Gilchrist. Shortly thereafter, he nailed consecutive turnaround jumpers in the lane to bring the Friars within two points. The 2nd of those shots entailed a necessary bit of extra fall-away to free himself from a defender which drew several "oohs and ahhs" from the crowd.
With the Friars seemingly poised to surge ahead, Michael Gilchrist made a defensive stand. Two consecutive Friars possessions ended with Gilchrist blocks, and he also made several timely defensive rebounds to swing the momentum back to the Celtics as they entered halftime with a 28-23 lead. Overall, the Friars played much more of a team game in the 1st half, while the Celtics relied very heavily on offensive contributions from star guard Derrick Gordon.
Down by five coming out of the break, the Friars exploded into the 3rd period, scoring 6 quick points off a 3-pointer and a steal leading to an and-1 opportunity. Again, Gilchrist rose to the occasion, making an aggressive interior move that drew a foul on the Friar defense. The foul was particularly noteworthy because Kyle Anderson had just snuck around back of Gilchrist and was on the verge of steal/breakaway layup. Shortly thereafter, Kyle Anderson tried another pump fake post move, but Gilchrist showed that he would not be fooled a 2nd time and the play resulted in a big block. The Celtics survived the Friar's 3rd quarter surge and held a 1 point lead entering the final period.
Moments into the fourth, Kyle Anderson gathered a big defensive rebound and threw a quick outlet pass that gave the Friars a 1-point lead. Shortly thereafter, Gilchrist attempted another aggressive move in the lane, but Kyle Anderson leaped over to make a MONSTER rejection of his own. The block lead to a breakaway basket for the Friars, putting them up 5 and forcing Celtics coach Kevin Boyle to call a timeout in an attempt to quell the momentum swing.
Down seven with under five minutes to go, Derrick Gordon made several aggressive drives to the hoop, but failed to convert on several free throw opportunities. On a subsequent series, Kyle Anderson went 1-2 from the FT, but managed to grab his own rebound on the miss which enabled the Friars to continue to eat away precious time off the clock. Over the final three minutes, Kyle Anderson and the St. Anthony Friars continued to make timely steals and operate efficiently on offense, running away with a 62-45 victory.
Miscellaneous Thoughts:
Michael Gilchrist was a force on the boards and on the defensive end with blocks, but his offense was surprisingly lackluster given the magnitude of the game. Much credit is due here to Kyle Anderson and the rest of the Friars for the defensive attention given to Gilchrist.
Aside from some poorly timed FT misses (which unfortunately seems to be a habit I've noticed across several games), Derrick Gordon is developing into quite an offensive weapon. Three years from now when the world has completely forgotten his name, you'll stare at your March Madness Bracket and question how Western Kentucky is in the Sweet 16. Derrick Gordon will be the answer.
It will be interesting to see how Kevin Boyle adapts the St. Patricks system to deal with losing Michael Gilchrist and Derrick Gordon in order to feature their rising stars in the post – Austin Colbert and Dakari Johnson.
Rutgers will be getting a steady contributor in Myles Mack.
This game belonged to Kyle Anderson. He was everywhere tonight. I'm not necessarily saying that he would be an impact player at a program like Duke, but he is certainly a very smart athlete that plays within himself and would at minimum serve as an exemplary role player in Coach K's system.
Bob Hurley is simply a tremendous coach. There's not much to say here that hasn't already been said. He truly put St. Anthony's in a position to win the game with a magnificent gameplan to limit Michael Gilchrist's effectiveness and deserves all the credit in the world for positioning St. Anthony's to win this year's high school national championship.
On a related note, I HIGHLY RECOMMEND everyone reading The Miracle of St. Anthony to get a full appreciation of Bob Hurley's positive impact in this world.