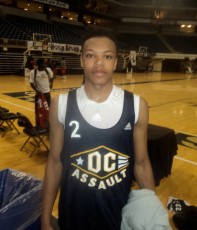 It's been a pretty good year for sophomore Nathaniel Britt II, the son of a detective in the financial crimes unit of the Washington D.C. police department. He took over the reins from current Duke freshman point guard Tyler Thornton, his predecessor at both D.C. Assault and Gonzaga HS, an academically-challenging Jesuit school in our nation's capitol. In his first year on the job, the 6'1″ lead guard was named D.C.'s Gatorade Player of the Year, an award that tries to take into account on and off-the-court achievements., and first-team All-WCAC.
The left-handed point guard led Gonzaga to the Washington Catholic Athletic Conference  Championship game and scored 16 points in the game, but lost 51-48 to arch-rival DeMatha, as the team was undermanned with Kris Jenkins, a first-team All-WCAC selection, rendered helpless due to an injury in the prior game. For the season, Nate Britt averaged nearly 14 points, over 5 assists, 4 rebounds, and nearly four steals per game. Often viewed as a cerebral player for his class, Britt had a better than four to one assist to turnover ratio in his sophomore campaign. (2701 word interview ahead)


Sorry, but you must become a premium subscriber to view the rest of this post.

Join now by visiting the PREMIUM MEMBERSHIP link at the top of the page, where you can learn more about the benefits of a Blue Devil Nation Premium membership.
This post is also available for individual purchase, but you need to login or register first.