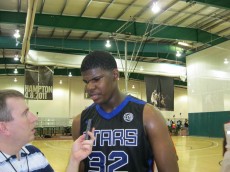 Day One is in the books at the Nike EYBL Session I, otherwise known as the Boo Williams Invitational.  There were several Duke targets playing Friday evening, including the nation's top rated big man Tony Parker.  We'll have plenty of video coming your way as we go into next week, although just about every Duke site imaginable was on the same players at the same time this evening, meaning a lot of the same stuff.
Parker showed off his newly chiseled body where he has lost some of his body fat from last season.  He ran the court well for his Georgia Stars as they walked through their opponent. 
Parker played sparingly and that was an effort to [private] save his legs for the rest of the session and foul trouble.  Parker spoke highly of Coach Krzyzewski and said he talked with him often.  He mentioned that UNC had offered but he has yet to talk with Roy Williams.
It was clear that Duke is a big player for his services but this one could go on for a bit.  Parker said he'd sit down with his parents and advisers before making a decision and mentioned that he would visit Duke and UNC in the coming months.  I feel much better about the Blue Devils chances with Parker after the interview.
Rasheed Sulaimon told BDN he'd been working on his game and that he was quicker on and off ball.  Sulaimon scored 12 points in the first half but was scoreless in the second as his team cruised to an easy victory.  We'll have more on Sulaimon a bit later, including videos, interviews and the like. Sulaimon has a sweet stroke and runs around the court like a water bug.  He is confident in his abilities and the way he spoke to media gives me the impression he is up for any challenges.  He said he loved playing with LJ Rose, a kid Duke once recruited.  Rose point blank told me, he still loves Duke and wishes they'd recruit him.  Not one Duke site payed any mind to him but now that I just mentioned this tidbit concerning his interest, watch his name magically appear elsewhere, wink, wink.  Still, Duke seems set with Quinn Cook, so it'd be a long shot for them to offer at this time.  Rose has a long list of suitors.
BDN talked with Theo Pinson as well, a kid who moved from D-One Sports to CP-3 this season.  He is but 15 years old and playing with the big boys and he can already hold his own.  He is fleet afoot and we'll have more on his game with an exclusive interview before the weekend is out.  We already have tape of him from the gang of Duke sites rushing to speak with him.  I have a ton of background on this sure fire prospect.
A lot of Duke fans have heard the name Brandon Ashley tossed about but trust me in that he is a long, long shot.  He mentioned UNC when I was questioning him, glowing and the IC guys swooped in.  I also talked with Oakland Soldiers teammate Aaron Gordon who had a monster game with some big time highlights.  He has a ton of potential and said he has not heard from Duke or ACC schools.  He has not list other than PAC-10 schools.
Anthony Bennett of CIA Bounce 17 played well tonight.  He loves to get into the lane and mix it up and has the ability to become a beast.  Bennett is of course Canadian and during the interview I felt he was unfamiliar with college hoops and asked him about that and he admitted he didn't really keep up with it growing up, not knowing much of the traditional powers.  His list was long and growing and he is at the beginning of the process. He spoke of being free in a more open system than that his high school team plays.  He seemed a bit surprised at the attention but liked it.
I spoke to Julius Randle as well and he loves to float outside despite his height.  He went up against the aircraft carrier known as Sim Bhullar, listed at 7-5 and over 300 pounds. [/private]