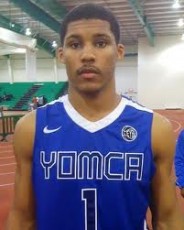 When you are a junior in high school, stand 6-8, weigh in at 250 and keep getting better, college basketball coaches will take notice.
 Such is the case with Jarnell Stokes, a bruising paint player who is just now getting accustomed body.  Last season Stokes was almost always in the paint.  At the opening AAU event of the season, Stokes ripped down a rebound and dribbled right up the gut of the defense only to finish with a right handed flush, then turning to make sure he got back up court.
Stokes, like many bigs, loves to play the angles [private]around the rim in that his physique naturally makes smaller defenders pop off with the slightest bit of contact.
Duke has recently showed interest in Stokes, where Nate James has taken on the lead role.  Make no mistake, Stokes will be a tough get but with his talent it is hard not to want him manning the blocks at the next level.
BDN Premium recently caught up to Stokes for a brief interview -
 
Where are you in the recruiting process at this time?
First I was high on Tennessee, but you know, the coaches troubles and players ... I am opening it back up.

Which schools are most active with you?
Of course Memphis, because that's where I'm from.  The new coach at Tennessee will stay in touch, Miami, Ole Miss, Pitt ..

Are you still open to new schools coming in?
Yes, definitely.

Did you have a dream school growing up?
Memphis was the team I pulled for but as far as recruiting goes, I am wide open.

What style of basketball do you like?
At first I liked a slower style, like a UCLA offense, but now that I've worked on getting faster, I think any style works for me.  I like the way Kansas plays their bigs, with the high low and all you know.

Have you ever thought about any of the schools in the ACC?
Yes sir.  I like the competition.

Which ACC schools would you like to hear from?
I've talked to the Duke coaches a couple of times and a North Carolina Coach, one of their assistants.  And I think Coach James, a black guy [from Duke], he talked about the pick and pop and how they could use me like Carlos Boozer or something.

How tall are you now?
6-9

A legit 6-9?
Well, I am growing ... hopefully I am not through growing ... I grew an inch this year.

Do you pattern your game after anyone, say on the NBA or college level?
I like a lot of them.  I like the way the Morris twins play and Derrick Williams at Arizona.

When will you get serious about the process?
Well, I'm starting to now.  More schools call like everyday so I am still open.  I am not sure when I would trim my list, maybe at the start of next season.
Since the interview Stokes told BDN Premium that Coach James has since called him and said that Duke was showing interest in him.  We'll have more on that later this week.
  
More to come on BDN Premium - [/private]