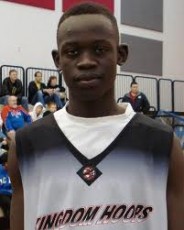 Childhood years can be a tumultuous time for a lot of kids. At 3, Peter Jok lost his father to violence in war-ravaged Sudan. At nine, his mother ultimately moved the family to Des Moines, Iowa to begin a new life. Two years later, the young man put away his soccer ball and began playing basketball. At a reported 6'6," he's now successfully playing the sport that has helped several of his relatives achieve a college education and, in two instances (Manute Bol and Luol Deng), an NBA career.
After a season in which he didn't enjoy his prior explosiveness, Jok underwent an MRI, which revealed a torn patellar tendon. In June, he's expecting to undergo surgery to repair it and the rehab will take several months. Recently, Jok and his guardian Mike Dixon's son, Pete, transferred high schools from Roosevelt HS in Des Moines to Valley HS in West Des Moines, where he will be coached by former Iowa guard, Jeff Horner. On the AAU circuit, the sophomore Jok is averaging 8 points and 4 rebounds per game in limited action for the All-Iowa Attack, who are 7-3 in Nike's EYBL.
His older brother, Dau, was a freshman guard at the University of Pennsylvania this past season and is currently on a trip that will take him through Rwanda and Southern Sudan, distributing soccer and basketballs to young girls and boys. Dau Jok, who set up a foundation in their slain father's name, Dut Jok, is looking to ultimately empower the Southern Sudanese youth through athletics and education.
Recently, the more laconic Peter Jok spoke with Blue Devil Nation.
How do you feel you've played so far over this AAU season?



Sorry, but you must become a premium subscriber to view the rest of this post.

Join now by visiting the PREMIUM MEMBERSHIP link at the top of the page, where you can learn more about the benefits of a Blue Devil Nation Premium membership.
This post is also available for individual purchase, but you need to login or register first.