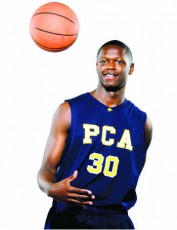 The advent of the internet and social media has  created a more level playing field where information is dissipated in terms of seconds and minutes rather than days or months. It's helped accelerate the potential boom and bust cycle of recruit's reputations. A player needs to continue to improve and stave off of his chasing peers. News spreads quickly when a player has a good game or weekend at a high school tournament or an AAU event.
Some young men shrink under the scrutiny, while others find comfort in the spotlight and excel. Julius Randle is a 6'8″ 242 lb forward for Prestonwood Christian Academy, a private school located less than an hour's drive north of downtown Dallas. As a well-publicized freshman, he led the Plano-based school to a 35-3 record, including a TAPPS 5A state title win over Trinity Christian Academy 50-45, averaging 15 points and 9.8 rebounds per game.
This past season, the Prestonwood Lions looked to play an even more challenging national schedule and competed on both coasts in the National Prep Classic in Santa Maria, California and the Beach Ball Classic in Myrtle Beach, SC, where the young  squad, led by sophomores Julius Randle and Marquan Botley as well as Kansas-bound junior Zach Peters, finished fourth and third, respectively. The Lions entered the state playoffs expecting to repeat as champions and were well on their way, but, in the championship game, dealt with foul trouble to both Peters and Randle and a 19-5 third quarter run to ultimately fall to St. Thomas of Houston, 76-57. In a season where he led the 26-11 Lions in scoring (24 ppg) and rebounding (12 rpg), the versatile Randle led his Lions with 14 points in the title game. For his efforts, he was


Sorry, but you must become a premium subscriber to view the rest of this post.

Join now by visiting the PREMIUM MEMBERSHIP link at the top of the page, where you can learn more about the benefits of a Blue Devil Nation Premium membership.
This post is also available for individual purchase, but you need to login or register first.