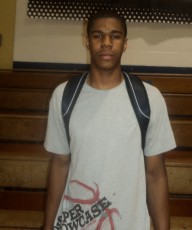 Anton Gill is a 6'3″ sophomore shooting guard from the Ravenscroft School in Raleigh, North Carolina.  Gill led the private school team in scoring this past season and has generated interest from high-major programs, including several in the ACC. The first program to offer the 2013 prospect was his father's alma mater, East Carolina. Gill's father, also named Anton, is the ECU Pirates' fourth all-time leading scorer. On Wednesday, NC State became the first ACC program and third overall (UNC-Charlotte) to formally offer him.
In this abbreviated interview, which was conducted earlier, he talked about a variety of topics, including his recent injury which has had him sidelined for the past few weeks, his relationship with Ryan Kelly, and some of the tougher North Carolinian players that he's faced.

First of all, can you talk about your injury and how it happened? Was it at that Telep camp or after it?
It was after Telep. I guess I just tweaked it a little bit. Then, I tried to play on it the next week. We went to the doctor's and he said that it was a stress fracture. I guess I'm kind of unlucky. (laughs)
No, not at all. You're a Ravenscroft kid. How do you feel that you played this past year in high school?
I think I'm playing well and knocking down open shots. I've got a lot of confidence in the things that I can do. I think this is probably the best year that I've had, so far, in my high school career.
In terms of recruiting, who's after you right now?



Sorry, but you must become a premium subscriber to view the rest of this post.

Join now by visiting the PREMIUM MEMBERSHIP link at the top of the page, where you can learn more about the benefits of a Blue Devil Nation Premium membership.
This post is also available for individual purchase, but you need to login or register first.