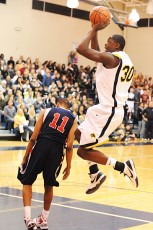 LOS ANGELES – Speed, athleticism, size, strength, and basketball IQ. Usually college coaches fight tooth and nail over a prospect that may have 2 or 3 of these attributes, in hopes of landing the next big thing, but when they find one that possesses all of these qualities they are sure to fall head over heels in love with him. Julius Randle has all of these attributes and it shows when he's on the court. The 6'8 combo forward from Plano, Texas has been showing fans on the AAU circuit why most scouting services have him ranked so high. Possessing a quality inside game and the ability to step outside and attack the hoop, Randle has the ability to dominate games. BDN got a chance to chat briefly with the Texas Titans lefty.
BDN: How is the



Sorry, but you must become a premium subscriber to view the rest of this post.

Join now by visiting the PREMIUM MEMBERSHIP link at the top of the page, where you can learn more about the benefits of a Blue Devil Nation Premium membership.
This post is also available for individual purchase, but you need to login or register first.