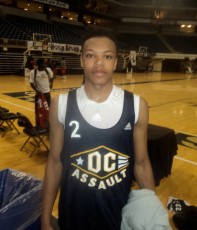 One of the players who garnered a lot of attention this past weekend was 2013′s Nate Britt.  By the end of the NBAPA Top 100 Camp, it was clear that he was one of the best performers there despite being a rising junior in high school.   Britt, who plays for Gonzaga High in Washington D.C., had a camp high 30 points in one game.  We spoke to Britt about the recruiting process and Duke fans will delight in the fact that he is already close to others that have been in the program.  Be sure to check back later as well, for an additional video interview clip with Britt and join BDN Premium today for full site access.
Can you give me the list of schools that are recruiting you?
There is no real list but those who are recruiting me?  Man, there are so many.  Virginia, Virginia Tech, Duke, Georgetown, Villanova, Arizona, West Virginia, UCLA, Pitt, Seton Hall.  Most recently, Florida, Georgia Tech said they'll look at in the July period.
So, a lot of teams are coming in.   You knocked down some 3′s in that last game, had a nice stroke … how do you feel like you've played here thus far?



Sorry, but you must become a premium subscriber to view the rest of this post.

Join now by visiting the PREMIUM MEMBERSHIP link at the top of the page, where you can learn more about the benefits of a Blue Devil Nation Premium membership.