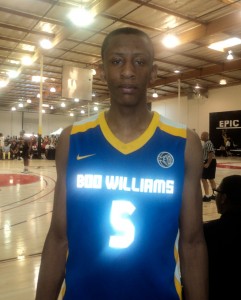 In Southeastern Virginia, an area rich in American history, there is one family woven deep into its basketball fabric. Boo Williams, the AAU impresario of the Hampton Roads area of Virginia, was a player at local Phoebus High School before taking his talents up to Philadelphia's St. Joseph's University. His sister, Terri, followed his path and enjoyed her own success at Penn St., before moving into the coaching ranks, where she is now the head coach for Georgetown's women's team. Their nephew, Troy Williams, is trying to make his own mark on the court, while being guided by his relatives.


Sorry, but you must become a premium subscriber to view the rest of this post.

Join now by visiting the PREMIUM MEMBERSHIP link at the top of the page, where you can learn more about the benefits of a Blue Devil Nation Premium membership.
This post is also available for individual purchase, but you need to login or register first.
What do you feel is your natural position? Where do you feel most comfortable?
Probably as a small forward.

Let's start with a basic recruiting question. Which schools have expressed interest in you?
Georgetown, Alabama, Texas, UNC, Southern Florida, UVA…did I say Virginia Tech?
No, not yet.
Oh, okay, Virginia Tech
Are all of those offers?
All of them are offers, except for UNC. They've just shown interest.
Do you have a timeframe in mind for when you'd like to decide by?
Yeah, I'd like to decide next year, between the middle of my junior and senior year. I guess that's not too soon.
I'm not sure if the audience knows this, but your aunt is the head coach for Georgetown's women's team. Does that help give Georgetown a leg up in your recruitment and how has she influenced your game, if at all?
It doesn't really affect me. Some people think because my aunt goes there that I'm going to go to Georgetown. It doesn't really affect me at all.

Well, what kind of guidance does she give you?
She's always speaking with me about my grades and stuff. She also helps me on the court too. Whatever I need, she's there. Whenever I need help with classes or something, she helps me out. On the court, she's been very helpful too.
Obviously, another major influence in your life is your uncle, Boo Williams. What's it been like having him as your uncle? That's got to help a little bit.
(laughs) It's like any other uncle, I guess, except he's got some benefits or whatever. He's got benefits.
That's a one way of putting it.
(laughs) Yeah, I mean he helps me out a lot too.
What's your relationship like him? Are you guys very close?
Well, most of the time it's just business, you know, AAU and travel. I'm mostly in charge of scoring with the ball and crashing the boards. He comes around at night and talks about ideas and stuff.
Do you guys live pretty close?
Yeah, we live about ten to twelve minutes away.
What advice has he given you on the court and also in terms of your college decision off of the court?
Well, with my decision, he said to go where I feel comfortable at; where I'll fit in at.
In terms of on the court, what advice does he normally give you?
Just play. Just play and have fun.
For the audience that may not have seen you play, What are your strengths and weaknesses?
My weakness is definitely my strength.
You said you weighed about 190. How big would you like to get? You've gotta get those pipes a little bigger.
(Laughs) I know. I know. I wanna get up to like 200. Wanna get more weight on my arm so I can take some hits.
And what are your strengths? What are your best features?
My strength is definitely hitting the offensive glass. Offensive rebounding definitely.. I'm able to get it and get the put back.
What about your defense? You had that shot block in the game where you nearly hit your head on the rim. You came out of nowhere.
(Laughs) Oh, that one. I don't know how I did it. I don't know how I did it. It just happened. I kind of timed it and it worked.
Hopefully, somebody filmed it. What are some goals for you this summer? What are some things that you like to work on?
Definitely defense. I want to work on all of my defense, but especially my on the ball defense. I also wanna work on my help side defense. That I need to pick up on.

Do you feel its more of an effort thing or a technique issue for you?
Definitely technique. Yeah, technique.
Do you hoping to show college coaches this summer?
My athleticism. I always hear about that a lot. I'm going to try to show them that and impress them this summer.
Do you know what your vertical is right now? Roughly..
It's about forty. Yeah, forty.
Wow, I think I've played with some guys that had a four-inch vertical. That's impressive.
(Laughs)
What's it like playing alongside Justin Anderson this summer?
He's a real good player. He tips the ball a lot. If we've got a fast break and he's on one side and I'm on the other…
That's a nightmare for the defense.
( Laughs) Yeah, exactly. We already know that one of us is gonna put it in the basket. If the defense comes at him, he's gonna pass the ball and the same for me.
Have you guys improved your chemistry?
Yeah, we kinda know where the other one likes it and try to help the other one out.
What kind of style of play do you prefer?
Fast break. 100 percent fast break (Laughs)

What player do you try to model of your game after? I heard you like Kevin Durant a lot.
Yeah, Kevin Durant is my guy. He's like my favorite player.
Who's the toughest player you've ever had to defend?
Kyle Anderson. Definitely Kyle Anderson.
What are your goals for the next high school season?
Getting my team to the state championship. We got close this year. So, hopefully, next year we can get there and win it.
Do you guys bring back a lot of talent?
Well, we lost like six seniors, but our sophomores actually got a lot done too ..like I was the leading scorer and our second leading scorer was a sophomore and our point guard was too.
Who will you turn to for guidance, whenever you do decide?
Definitely, my uncle. My uncle and aunt.

What's your range? How far out do you feel comfortable shooting the ball?
Probably NBA range.

You feel that you've got pretty good range. Do you have a go to move?
My step back. Absolutely, my step back.

Have you visited any colleges recently? Do you have any visits planned?
I've visited Virginia Tech, but that was back a little.
Are you going to visit any schools this summer?
Probably eleventh grade year. Coming up next year, yeah.
Have you heard from any college coaches recently?
Yeah, DePaul called the other day.
Was it Coach Purnell?
I don't really know who it was. I'm sorry.
That's fine. Will distance be a factor for you? There's been some talk that it may be difficult to get you out of that area.
Oh, no, if I feel comfortable in Texas, I'll go to Texas or California. I'll go wherever I feel comfortable.

There's a big world out there.
Yeah, it is.
What would you like the audience to know about you away from the court?
Most of the time, when I'm at home and not doing nothing, I'm at the streetball court. I'm usually playing over there.
Do you get full-time access to your uncle's courts?
Yeah, if nothing's happening…he'll call if he's got a free day and I've got a free day. I end up going over there and we workout.
They kept switching you, but what position do you prefer to defend?
Whoever they need me to defend..it usually depends on match-ups, but mostly small forwards.
What do you think opposing coaches tell their players about you in their scouting reports?
Definitely, you've got to box me out, especially on the offensive end. Whenever I shoot the ball, you've got to put a man on me and, with this team, Justin Anderson too because we will hit the offensive glass. You need to box the two of us out because we're definitely going to the offensive boards for the tip or the put back.
Nationally, who are some guys that readers might be surprised that you're friends with or met, either through AAU ball or the various camps?
Well, through my uncle, I've met Alonzo Mourning. I met him.
That's a big one.
I met Coach Riley.

Coach Pat Riley?
Yeah, yeah, I met him. I also met, well, I can't really say that met him, but I talked to over the phone … Phil Knight.

That's a really big one.
(Laughs)
By the way, have you spoken with Allen Iverson? I know that he's from right around your area.
I remember this, but I don't know if he remembers this. One time, when I was little, I went to a football game and his little cousin was playing and I shook hands with him, but I don't know if he even remembers me. He probably doesn't even remember me.
Oh, that's alright. He'll want to remember you in the future. What's your schedule like the rest of the summer?
I've got the LeBron and then the Peach Jam, which, hopefully, we'll win. After the Peach Jam, we go to the Nike Nationals in Florida.
Since the June 15th date have any schools from the ACC called you?
When they were allowed to call on the first day, Coach Capel of Duke.
What kinds of things did you guys speak about?
What Duke was like and stuff. That's really all we talked about, how Duke was like, and what tournaments and stuff I was going to be in this July.
Is he the only coach from the staff you have spoken with?
Yes.
Will they be watching you this summer?
Yeah, he said him and Coach K will be watching me at the Peach Jam.
What do you know about Duke as a program?
Well, it's really highly educated. Academics are high. Then, also basketball is really known too. It's a good overall school, peaceful campus and all.
What was your impression of Coach Capel? What was his approach like?
He approached me basically as a coach. He's a real cool guy, he knows how us young people think. [/private]