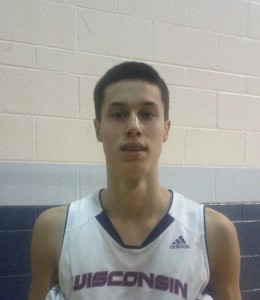 The college town of La Crosse, Wisconsin sits on the banks of the Mississippi, which provides the border to Minnesota. It is the hometown of Bronson Koenig, a 6'2" guard who straddles the line between point guard and shooting guard. The 2013 prospect has recently picked up significant interest from the Duke Blue Devils. As a sophomore, he led Aquinas High School to a state title and was named All-State in Wisconsin.
On the AAU circuit, Koenig competed with the Wisconsin Playground Warriors 16-and-under squad at the Adidas Super 64. He had been getting recruiting interest from Kansas, North Carolina, and in-state Wisconsin, but recently the Jayhawks were able to receive a verbal commitment from Connor Frankamp, a Wichita guard who led his 16U squad to the Super 64 Championship.
After a 52-44 defeat by New Heights, the third straight defeat for the ultimately 1-4 Warriors, the terse Koenig spoke about Duke's recent interest, how he felt he performed in his initial game in front of Coach K, and how he's going to try to improve his game in the coming months.
What position do you view yourself as? A combo or more of a one?
It doesn't really matter. I mean I can play point guard in college or I can play either the one, two, or three.
In terms of the colleges that are pursuing you, Wisconsin and North Carolina are considered two of your leaders. Kansas took a commitment last week from Connor. Are those your two primary suitors or are there other programs out there that are still in the running?
Yeah, I'd say Virginia, Duke, and Kansas are the other ones. That's pretty much it.
[private]
How far along do you feel that you are in terms of deciding? Is this near the end or do you still feel you're in the early stages?
I'd say late… Late.
You're sort of known as a three point shooter and a secondary ball-handler. How have you tried to diversify your game, in order to make it more difficult for defenders to guard you?
I've tried to improve my ability to get in the lane and then either improve my ability to dish it off or lay it in.
Is there significant in-state pressure to choose Wisconsin?
Yeah, um, there is a little bit.
For the audience that may not know much about you, you won the state title this past year and made All-State as well. Share with the audience what this run was like?
Yeah, it was a really good team and I learned a lot that I'll be able to use later on too.
What are your goals for this upcoming high school season?
To win another state championship.
Alright, what are you hoping to improve upon most over the next year?
Getting stronger, getting lower, and developing my core game more and I think I need to work on my conditioning a little bit, do you know what I mean?
Yeah, I do. By the way, do you view three-point shooting as your strength or is it something else?
Um, yeah, I'd say shooting and passing.
Shooting and passing?
Yeah.
Is there a guy that you try to model your game after?
Not really.
One of the other schools you mentioned before was Duke. What do you know about the program and which coaches have you spoken with?
Oh, yeah, I talked to them when I was in Louisville. They said that they were going to go ahead and watch me play here. So, we'll see..
What do you know about the program?
It's a really good program.
What do you find are some of the differences between playing with the 16s versus the 17s?
Yeah, as I'm sure you know, it's a big difference. they're physically so much bigger and more athletic and stronger. I'd say athleticism and strength are the biggest things. I'm not sure, but I'll probably play with them at the next event. You need to get stronger as you move up the ranks.
What are you looking for ideally whenever you do decide on a college?
Well, I think it'll pretty much come down to how comfortable I am with being there. Just a comfort level.
Who will you turn to for guidance whenever you do decide?
My parents. Yeah, my parents probably.
Have you taken any visits recently and do you have any planned?
I went to North Carolina, Wisconsin, and Kansas.
Who's the best player you've faced so far, either in Wisconsin or nationally?
I don't know. There are a lot of really good players. (laughs)
Coach K came and saw you play for the first time. Did that have any significance?
Um, I guess it was in the back of my mind a little bit, but I just tried to play through it.
Was it similar to when some of the other big-time coaches came and watched you play for the first time?
Um, yeah.
Is it pressure, hunger..
A little of both, but I guess a little pressure.
How do you feel that you played?
I don't really think about it. I though it was really clogged up and I couldn't get anything going.
What do you think you need to focus on?
Getting stronger and getting lower…just getting my body lower and eventually being able to get above the rim.
Defensively, which position do you feel most comfortable guarding? They switched you a lot out there today. Mostly playing guys off of the ball.
Either one, it doesn't really matter.
Thanks for your time.
Thanks.[/private]