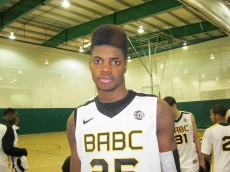 The Nike Peach Jam is in full swing in Augusta, Georgia where BDN Premium is on the scene to bring you the latest on who the Blue Devil staff is watching.  Coach K was here bright and early spending time between 2013 studs Jabari Parker and Julius Randle.  He then watched Nerlens Noel and Rasheed Sulaimon.
Houston Hoops defeated the Arkansas Wings by a 76-61 score with Rasheed Sulaimon dropping 18 points.  Baltimore Elite took care of Louisiana Select and Playaz took out the Family.
Adam Woodberry tossed in 10 points and grabbed 10 rebounds but Nerlens Noel and BABC won easlily.  Noel ended the game with 12 points, 8 boards and 3 blocked shots.
Jarnell Stokes didn't miss a shot from the field and he led his team to a 2 point win over California Supreme, tallying 14 points.
Justin Anderson dropped 23 as Boo Williams fell to the Oakland Soldiers and Branden Ashley with 24 points.
Team Takeover, the favorite to win the event, defeated All Ohio Red 73-68 as Patrick Holloway scored 18.
Athletes First got 27 points from James Woodard and they took down the Georgia Stars with Duke prospect Tony Parker scoring  16 pts, 5 boardsand Alex Poythress a game high 10 rebounds and 17 points.
CP3 was led by Rodney Purvis who dished ten dimes to go with 17 points as they defeated Albany City 76-63.
Mac Irwin Fire and Jabari Parker (12 pts, 6 rebounds) slipped past Mean Streets by a 65-56 score.
Team Texas lost a heartbreaker to Indiana Speice 57-56.  Julius Randle had 10 points from the free throw stripe for 18 and Matt Jones added 26 and 8 boards, 2 more than Randle.
For more in depth updates on Duke prospects, join BDN Premium and gain full site access.