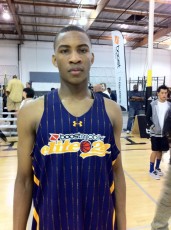 While there was a boat load of Duke recruits this week in L.A for the Boost Mobile Elite 24 there was only one Duke commit, 2012 Rasheed Sulaimon. Rasheed started out the event with a solid performance vs. the pro's on Wednesday night where he showed his solid 3 point shot as well as his active hands on defense. There was no backing down from the rising senior as he effectively showed everyone why he is rated as high as he is. Rasheed continued his hot shooting into the practice where he was easily a top 3 player on the court at all times. Sulaimon also showed great athleticism over the week with numerous high flying dunks as well as great lateral quickness which will help him on defense in the future. It isn't very hard to see why scouts have him rated so high and once again the Blue Devils pulled in one of the best guards in the class. Rasheed was kind enough to take a few minutes and speak with BDN on his time at the Elite 24 (Note- We are currently running a one week special on memberships which is 15% off the yearly rate.  Other options discounted as well.)
BDN: What's this experience been like getting to play with the pro's?
RS: It's just been a great experience you know. Coming out here and competing with top notch guys like Kemba Walker who won a championship last year, Brandon Jennings who had 55 points his rookie year, Tyreke Evans, and the list goes on and on. Just to be on the same court as these guys it's truly an honor and we just try to come out here and compete as best as you can and it's just a really


Sorry, but you must become a premium subscriber to view the rest of this post.

Join now by visiting the PREMIUM MEMBERSHIP link at the top of the page, where you can learn more about the benefits of a Blue Devil Nation Premium membership.
This post is also available for individual purchase, but you need to login or register first.