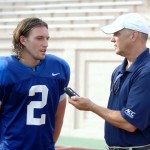 Duke Football begins practice
Duke Football practice kicks off this afternoon as Coach Cutcliffe prepares his fourth season in Durham.  BDN will be on the scene and we'll bring you weekly and sometimes daily updates from camp.  BDN has quickly established itself as "the" unofficial source on the team, breaking 10 of the last 12 recruits to verbal to the royal blue.  All season long, we'll be on the sidelines and in the press box to bring you our usual top notch and timely coverage.  Quite simply, no subscription site will outwork us on the gridiron.  With excitement starting to peak, it's a good time to secure tickets, especially the Stanford game where the reigning Heisman Trophy winner, Andrew Luck will bring top ten power Stanford to town.  Both individual and season tickets are on sale now.
NCAA changes will have serious effect on college basketball recruiting
Changes are in the air with concern to college basketball recruiting.  The NCAA is inching towards the modern era and will grant the coaches more access to recruits once changes go through.  The gist of the matter is that coaches contacts via texting and such will be deregulated in an effort to be more friendly with electronic media.  But he biggest change in place for my money is that juniors will now be able to make official visits the second the national champion is decided in April.  After August 1st, there would be no limit on communication between coaches and prospects.  The tricky change is that there is a proposed two certified recruiting events in April.  This could drastically change the AAU landscape as we know it and that is not necessarily good for the shoe companies.  We'll keep our eyes on the changes for it could well change how BDN Premium covers recruiting in the future.
Right around the corner
Duke Football will kick off against Richmond in Wallace Wade Stadium in a mere 27 days.  Where did the summer go?  Duke Basketball will tip off against a very strong Belmont team in 95 days.
Okay, we tried to hold out ...
I was hoping to talk of how fans could watch the Duke games on the China-Dubai trip but the announcement from GoDuke has yet to come and we're not going to steal their thunder.  We kind of want to but ... Anyhow, look for an announcement any time now.
Tough schedule designed to grow young Blue Devils
We'll have our own preview coming of the 2011-12 Basketball schedule which has not been released to date.  However, some of the games are already known and we defer to Jon Pence for his take on tough schedule in the making.
Coming this week on BDN
Our members love our team and recruiting update and a new one is in the works.  It's become the oft copied gold standard of updates. We will also take a look and hear from two rising sophomores on the Duke Women's Basketball team.  There will also be a feature on Andre Dawkins which fans have been patiently waiting for.  Football practice will be front and center as well and we'll have all the base covered there with Patrick Cacchio.  And you will also hear from Mike Krzyzewski on the China-Dubai trip.
This was an abbreviated Monday Musings and you know what that means right?  Yep, there is a lot of other cool stuff we're working on so bookmark Blue Devil Nation and thanks for stopping in.