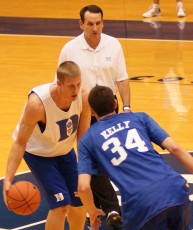 Welcome to an afternoon edition of Monday Musings. While I try to make this a weekly column, BDN can at times get too busy to run the article. To kick off the week for members, we have a new Jabari Parker interview posted and one with another recent Duke offer, Bronson Koenig. Okay, enough on BDN Premium, our subscription service for all the inside information you can handle and on to this weeks musings -
Much ado about nothing and our let's focus on the pin hole and create news
If you listen carefully enough, you can hear a snicker coming from Matt Jones of Kentucky Sports Radio. Jones is an infamous Duke hater who actually went to law school in Durham, yet he bleeds Kentucky blue. Over the past several years, he has taken more than one passing shot at the Duke program and can often be found arguing with other Kentucky sites when taking a break. During a past recruiting event, Jones came in with more radio related equipment than anyone has ever seen. So much so, that one of  recruiting analysts said it looked as if you took a step back in time for a session of the Grand Ole Opry.  Another said his original set up was "clunky and clownish."
Anyhow, Matt knows how to run with a blurb and make folks uncomfortable in the process.  He like all parties involved or who we have taken subtle shots at are good at what they do.  Duke fans overreact on the message boards, just like many other fans who believe anything they read on the web, and this latest mess is no different.  The problem is most of what you see on the web today lacks credibility.  There has been a serious lack of control, and recruiting media is probably the worst of the bunch. Most of them not adhering to any kind of protocol, but that's a story for another day.
In today's media, anything seems to be fair game. Perhaps it is the influence of TMZ or one of those magazines on the checkout that feature "inside" information. Just the other evening, a WRAL reporter, who happens to be a UNC grad, stated that "This could mean serious trouble for Duke." Then there is the, yawn, local sports show radio shock jocks baiting the likes of TSN's Mike DeCourcy and ESPN running the news, er, kind of, sort of news on it's ticker. To his credit DeCourcy didn't bite nor has anyone else with a rational mind.
What we are talking about is that some think Coach K offered a prospect, Alex Poythress before he was allowed to. A couple of hours we're talking here, and something that was going to happen be it a few hours later or maybe even today. Yeah, that legendary Coach K is such a cheater. Having been around the program from a coverage standpoint, I can tell you that I have never seen the coaches go places others seem to. In fact, Duke should be celebrated as a team that runs a clean and tight ship.
Don't get me wrong here. Duke is not perfect for the staff is human. They can get a date mixed up, possibly even the time with all of their flight schedules, but knowingly cheating? Really? They need to do that? Come on folks, let's get real here! Does anyone think Coach K would need to sneak in that offer for a kid who has one coming regardless of the time?
Duke called Alex Poythress between events, yet the events just happened to be in the same facility in Orlando. Having gone to said events in the past, I can tell you that while there is a little break in the action between events, they are definitely different. Coaches are allowed to call prospects between events as has happened all year long and that's what happened.
So, Krzyzewski called after the Super Showcase but before the AAU Nationals, both which take place on Disney property. Since the other day, the story has died down quite a bit but some feel Duke is still a victim of perception. We're not talking Big Blue handshakes or changing of license plates folks. Nope. Krzyzewski simply offered Alex Poythress. If it were a few hours too soon, then we'll hear of it. It has gone through the proper channels of compliance now and Duke as most of you know, always complies.
Meanwhile, fifteen minutes down the road, UNC Football has blown up the nation with a list of violations that rocks the senses. But for a day or two, the media would have you think that Coach K and Duke were almost on equal ground. It's time for a reality check. Still, shock jocks are looking for a story and they often create one from anything they desire. In fairness, I suppose it's their job and I am sure they are tired of talking about the UNC Football fiasco. Even before this article was finished, I was contacted by a beat writer asking me what I have heard.  Come on guys, this is not that big of a story and like fishing for gold plated bass in the local Eno River. If you want to bait the hooks, be my guest, but if you're looking for something shiny and new to pop out of the water, aka the supposed Blue Devils dirty deeds, put on some sun screen, for you'll be in the boat for a bit.
Queen Elizabeth
Elizabeth Williams is an incoming freshman and a prized recruit for Coach G and her program. Williams, a former native of Virginia Beach, Va., knocked down 6-of-8 shots from the field as she helped lead Team USA to a Gold Medal. For the tournament, Williams averaged 8.9 points, 5.0 rebounds and hit 52.3 percent from the field. Williams has now been a part of three gold medals, after winning gold at the 2010 FIBA U17 World Championship and 2009 FIBA Americas U16 Championship.
Duke Football Practice
Football is here! Duke starts practice this time next week and BDN will be bringing you updates from the practices leading into the season. BDN has quickly become the top site for news surrounding the program, be it recruiting or weekly features and that will continue. Duke will place a veteran offense on the field but there is still work to be done. Duke must come away with more touchdowns than field goals in the red zone this season and continue to establish a ground attack. The defensive side of the ball is more uncertain with the new 4-2-5 scheme. We'll look to see how the defensive front develops and if the young linebackers can come around in short time. The secondary is the strength but there is room for improvement. Duke will have a solid kicking game and the focus will be on preparing for a win in the opener over Richmond, a game that is indeed a must win right out of the gate. The media picked Duke last during the ACC Kickoff gathering and that should be posted on the locker room wall as a sign of disrespect. Duke is not going to wow you into a second place vote on paper but they can play with and defeat division rivals Georgia Tech, North Carolina and Virginia on a given day. It is simply a matter of believing at this point and Cut and company will try and adjust the players attitude to fill the bill.  Individual tickets are now on sale, get yours today.  The most popular one will be the Stanford game featuring Heisman Trophy winner Andrew Luck, a player the NFL is drooling over.
China trip
Talk about one busy August! Duke Basketball will share time with Cut's football team until September as they embark on their China trip. Krzyzewski will meet with the media before the event and BDN will be there to bring you his comments. As for the trip itself, this is one we won't make. BDN is pretty much anywhere Duke Athletics happenings are taking place but we aren't in the spare twelve grand club. For those who are, it'll be a trip to remember and if you go, send us your photos and such and we'll post them.