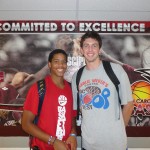 Participation in the Friendship Games provided an early look at the 2011-12 edition of the Duke Blue Devils. In three games against the China Junior National Team and one game against the United Arab Emirates National Team, Coach Krzyzewski was able to get an early jump on melding the individual Blue Devils into a cohesive team.
The dog days of summer are usually spent watching the pennant races heat up and preparing for the upcoming football season, while plenty of time was still devoted to those meaningful activities, Duke Basketball fans were treated to competitive international basketball in August. For diehard college basketball fans, those games were a sweet appetizer for the upcoming season.
So, what did we learn during the four games? In no particular order, we learned the following:
Ryan Kelly is looking really good
Ryan Kelly led the Blue Devils in scoring with 60 points over the four games. He also collected 33 rebounds for an impressive 15 points and 8.2 rebounds per game stat line. But the story isn't Kelly's stat line, but rather his calm, collected attitude on the court. The story is how smooth and confident Kelly looked knocking down a jump shot, collecting a rebound or delivering a pass to an open teammate.
If Kelly can build off his play in the Friendship Games, and continue to improve his all around game, he could be a player who gives opponents match-up fits and develops into an All ACC performer in 2012.
Starting Rotation
Over the four games, the same five players started: Miles Plumlee, Ryan Kelly, Andre Dawkins, Austin Rivers and Seth Curry. While I am sure Coach Krzyzewski will still mix and match line-ups in the early season games, with some fluctuation in the starting line-up based upon practice intensity and previous game performance, the fact the same five guys started all four summer games is indicative that a solid pecking order has been established.

The perimeter is deep and talented
Seth Curry, Andre Dawkins and Austin Rivers combine to be a formidable three guard back court. Curry and Rivers can both handle the ball even though they are not true point guards, while Dawkins, who has always been a very dangerous shooter, appears ready to be a threat to attack the rim via back door cuts and by working the baseline.
Dawkins and Rivers each scored 57 points in the four games with Curry right behind them at 54 points. Dawkins sank a blistering 48.3 percent of his 3-point attempts, while Curry led the team with nine steals.
Rivers has the ability to create his own shot and drive to the rim; however, these international games demonstrated he still has a lot to learn. There will be further discussion on Rivers in a bit.
Turning to the bench players, Tyler Thornton is a pest and I mean that in the best possible way. His tenacious approach to playing defense will continue to earn him significant playing time.
Alex Murphy has length and the ability to run the court. While he struggled early on, he improved every game and was impressive in the United Arab Emirates game. Murphy should see time on the wing in relief of Dawkins and at power forward when Coach Krzyzewski decides to go with a small line-up.
Post game is in good hands
Led by senior Miles Plumlee, and including juniors Ryan Kelly and Mason Plumlee, this year's Duke Blue Devils are as talented and experienced in the front court as they have been in a number of years.
The three upperclassmen combined for 134 points and 96 rebounds, which averages to 33.5 points and 24 rebounds per game, from the center and power forward positions, against legitimate competition. We are not talking summer pick-up games here. Last season, those three players combined for 18.6 points and 17 rebounds per game.
I realize the comparison is apples to oranges, four international games to an entire NCAA season, but I'm just throwing it out there as food for thought. It is data points fanatic fans can chew on.
To take the apples to oranges comparison one giant leap further, on the 2004 team, Luol Deng, Shelden Williams and Shavlik Randolph combined for 34.7 points and 19.9 rebounds per game.
While I am not trying to suggest this year's front court will be as formidable as the 2004 front court, I am suggesting this front court has the potential to be very, very good and perhaps the best front court we've had since 2004. And that is saying something seeing as the 2006 front court of Shelden Williams and Josh McRoberts was not shabby.
To maneuver this section back into the here and now, before this year's trio of front court players can reach their maximum potential, they must prove themselves in two areas: consistency of play and foul management. If those prerequisites are achieved, the sky is the limit.
Austin Rivers is ready to start as a freshman
Rivers was simultaneously impressive and inconsistent. He scored 57 points, but he led the team in turnovers with 15 and only connected on 5 of 21 3-point attempts.
The poor 3-point shooting can easily be explained away by the deeper arc on an international court. The turnovers are more a result of poor decision making and playing out of control. On multiple occasions Rivers drove too deep into the teeth of the opponent's defense and was left without an option other than to throw the ball toward a teammate on the perimeter.
So, should Duke Fans Worldwide go into a panic and chew their finger nails until they bleed? No! Rivers is a freshman so those type plays should be expected. Like every other freshman, Rivers must adjust to the speed of the game and the increased talent level on the court.
Rivers' decision making will improve and he will rapidly learn to play within himself and once that happens, which I expect will take place sooner rather than later, he will be a force to contend with on the hardwood.
During the Friendship Games, we learned Austin Rivers is ready to immediately start and be an impact player.