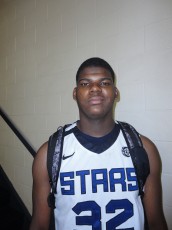 When it comes to big physical big men in the 2012 high school recruiting class, not many are bigger and stronger than Georgia big man Tony Parker. Parker has long been on the Blue Devils wish list for 2012 recruits to try and get that bruising cog to man the middle. Parker, who stands 6'9 and 260lbs, has had the Blue Devils high on his list for as long as many remember. However, many Duke fans are struggling to fully emerge themselves into the twisting and turning of Parker's recruitment. In recent interviews Tony hasn't exactly made glowing comments about Duke, but they haven't been comments that fans would like to hear. The Duke brass has showed Tony plenty of film on former Blue Devils Elton Brand, Carlos Boozer, and Shelden Williams to display their use of big men and what they can achieve when they commit to play for the storied program. Whether the perception of Duke being a guard school is right or wrong, the Blue Devils have to consistently combat that view to land that low post bruiser that fans have long been clamoring for. BDN got a chance to briefly speak with the highly touted big man and get some of his thoughts.
BDN: How was it playing against the pro's in the Elite 24?
TP: It was good. It was fun. But you know we play against pro's back home in Atlanta, they're local pro's, but playing against pro's from all over was cool. You know they had top draft picks, it was fun.
BDN: Most difficult aspect?
TP: It was just, you know, their moves are so quick and they're real controlled. It's just really playing defense. It's not about scoring, everybody out here can score, it's just playing defense.
BDN: What's



Sorry, but you must become a premium subscriber to view the rest of this post.

Join now by visiting the PREMIUM MEMBERSHIP link at the top of the page, where you can learn more about the benefits of a Blue Devil Nation Premium membership.
This post is also available for individual purchase, but you need to login or register first.