It's been some kind of busy around here of late and we'd have it no other way.  Of course, there will come a time when dual basketball and football coverage will take a toll  in that at BDN we try and cover it all.  This week is yet another exciting one for Duke fans and we discuss that further in this weeks Monday Musings -
This time they play somebody else
Trust me when I say that the Duke Men's Basketball team is ready to take on somebody besides themselves and on Saturday it all begins. The Blue Devils will tip it off against Bellarmine at 7 p.m. this Saturday and all eyes will be on how Coach Mike Krzzyzewski uses his rotation.  Our guess is that the brothers Plumlee will start alongside Ryan Kelly with Austin Rivers and Seth Curry in the backcourt.  But we also think you will see as many as four more players crack the starting rotation at some point this season.  Duke has to take full advantage and advance in the two exhibition game in that their opener against Belmont is no walk in the park.  Belmont returns everybody off a 30 plus win NCAA Tournament team, so this is in no way a gimme game even in Cameron Indoor Stadium.  Anyhow, expect varying analogies after the game on Saturday but if you've been following BDN, you already know what to expect.
Who will step up?
Duke is looking for players to step up and the question is who is really in the mix?  Alex Murphy has drawn the praise of Coach in practices with his on court smarts, but will he stand up physically against the likes of UCLA , Memphis or Kansas in Maui?  Michael Gbinije can do a lot of things well on both side of the ball but can he take a leap forward and be aggressive? Andre Dawkins is surely in the lineup, probably the sixth man, but can he be consistent when not jacking the threes?  Quinn Cook?  He looked great in the Blue-White game, but some say he has struggle in practice at times.  Can Cook find a way to claim the keys to the ship at some point in the season?  Tyler Thornton is not as exciting an offensive player but he is a solid on ball defender and hard worker, so will this be enough to gain him valuable minutes?  Josh Hairston is openly called the fourth big by coaches but will he too take advantage of his time on the court and take another leap forward?  Duke needs no less that two or three of these guys to contribute so it'll be interesting thing to watch and see who takes the bull by the horns and makes themselves a contributor.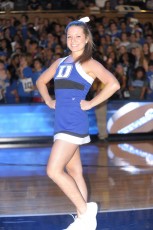 Tony Parker is in town
Duke has been recruiting Tony Parker for a long time now and Coach K has made it clear to him that he is their choice.  His recruitment has taken a lot of turns with comments and such, but it now appears that Parker is realizing the opportunity that is at hand and that he is in rare air being coveted by the nations top coaching staff.  Coach K loves Parkers hands and sees him as a perfect fit in the Blue Devils system.  Coach Capel would help Wojo work with him to make him a great big before he leaves Duke.  There is no reason to feel anything but positive about the Blue Devils chances with big Tony who wants to make a choice before his high school season starts.  And for those with a scorecard the open signing period is from November the 9th to the 16th.  Rasheed Sulaimon will send his LOI in, the question is who else will?
All quiet on McGary front
Nobody really knows where Mitch McGary stands at this time but Duke fans are hoping he waits to cast his lot until he plays in Cameron Indoor Stadium in the N.C. Pro Am Clash in Cameron.  That's right!  My friends at the NC Pro Am are now a sponsor and I look forward to working with them to promote the event that features Jabari Parker and Jahlil Okafor.  And yes, we really will get to the update on the event soon.  I did say things had bee crazy around here, didn't I?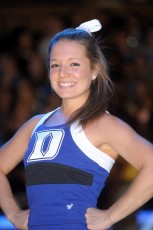 Valiant second half effort by football team
Almost.  I know we all want wins but Duke has at least put itself in a position where a couple of plays could have meant a 5-2 mark instead of 3-4.  Fans need to think back when they had that opportunity before and support the program.  The guys need the support and you know what?  Almost all of them return and they will learn by the adversity faced as will the staff.  We in no way have jumped off the bandwagon and neither should you.  Duke takes on Virginia Tech this weekend in Wallace Wade and it is a great time for fans to take in the Saturday double header with basketball.
Facebook Page
Blue Devil Nation has an open group Facebook page that we are just starting to refine.  We have put a ton of pictures up from Countdown to Craziness, so join us today.  The open group means you can download Duke Photo's, converse and even place links.  So help us out Blue Devil fans and le't see your pride. Here is the link to Facebook page.
Glitches
After a few glitches last week, BDN is getting back to normal with our coverage.  We appreciate the support of fans who follow us and we strive to give you the most Duke-centric experience out there.  The best way to say thanks for our efforts is to join BDN Premium, our extended coverage that takes you inside the happenings.  Let's go Duke!