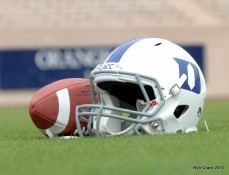 We missed you too! Just because it's an off week for Duke Football, doesn't mean it's an off week at Blue Devil Nation. BDN brings you first hand coverage of Duke Football all year long, where we cover the team live. While #dukegang enjoys some well-deserved R&R, we bring you back a special in-season edition of BDN's Football Friday. This edition is open to all fans to give you an idea of what BDN Premium brings to the table with our recruiting and team coverage. BDN has become the place to be for inside info on the football team, so spread the word and by all means join BDN Premium and discuss the latest happenings with fellow members.
#TeamNoDaysOff
Whenever Football Friday goes to a concert, a part of us always wishes that the band would just get to the hits right off the bat. Blow the audience away from the first drumbeat instead of the usual slow crescendo. Maybe that's just us. Anyway, let's hit the ground running with recruiting updates. You do remember recruiting, don't you? It's the stuff we obsess over when Duke isn't playing football games. It's also the stuff that keeps the coaches busy when the team isn't playing games, and this week is no exception.
Jela Duncan remains priority number one, and don't let anyone tell you otherwise. Running back remains the one glaring hole in the Duke class of 2012, and the Blue Devils have had their sights set on the Mallard Creek star for quite some time now. The interest is mutual, as Duncan has repeatedly put Duke at the top of his list, primarily based on his close relationship with Head Coach David Cutcliffe. Speaking of the HC, he hit the road after Duke's Thursday practice to visit with Duncan. Cut will also take in Mallard Creek's game against North Mecklenburg. Duncan has been lighting up opponents so far this year, leading Mallard Creek to a perfect 6-0 record, while running behind big Florida-bound OL D.J. Humphries. Jela has an official visit planned to Purdue this weekend, and has already visited Duke several times, but is finalizing his other official visit plans.
Traveon Henry is another top running back prospect that the Blue Devil staff is enamored with, and the Fort Lauderdale native was in Durham to take in Duke's big win against Tulane. That visit was Henry's first official and sources say the visit went very well. Henry is playing his recruitment close to the vest, but they do plan to visit Florida State, Northwestern, and Yale later this fall. A star on both offense and defense, Henry as earned over a dozen scholarship offers. He also plays on the basketball team at Pine Crest and is a former teammate of Detroit Pistons guard Brandon Knight.
Jamie Gilmore is another Florida prospect that the Blue Devils are looking at as a potential running back in the class of 2012. The North Marion HS star plans to visit Durham in December, and is also eyeing visits to Maryland and Utah.
Duke will keep in touch with several other prospects, but would be unlikely to take a commitment until they've heard a decision from these three players.
So what about the rest of the class of 2012? Did you already forget the 14 newest Blue Devils-to-be? The Duke coaching staff hasn't, and they will be hitting the road this weekend to check in with most of Duke's verbal commitments. Just to refresh your memory:
TE Dan Beilinson 6'5" 225 pounds
OT Casey Blaser 6'5" 255 pounds
DE Allen Jackson 6'5" 225 pounds
WR Max McCaffrey 6'2" 185 pounds
K Ross Martin 5'10" 185 pounds
WR Anthony Nash 6'4" 180 pounds
S Dwayne Norman 6'0" 182 pounds
TE Erich Schneider 6'5" 200 pounds
QB Thomas Sirk 6'4" 210 pounds
OG Tanner Stone 6'6" 255 pounds
S Michael Westray 6'1" 195 pounds
LB Deion Williams 5'11" 210 pounds
DE A.J. Wolf 6'4" 245 pounds
DE/DT Carlos Wray 6'2" 245 pounds
Looking at the list, Duke could use another LB and another lineman and the staff will have to crunch the numbers with regards to available scholarships for this class. A few of the remaining targets who are contemplating official visits to Duke are LB Keilin Rayner, LB Jeremiah Allison, DT D.J. Reader, OL Bryce Kennedy, and OL Robert Conyers. The coaching staff is also looking at a few hybrid athletes who could potentially fill an offensive or defensive position, depending on how things play out. Two such players would be Tysean Holloway from Asheville and Lakeith Walls from Ohio. And if you're wondering whether Duke is searching far and wide for talent, Coach Lubick will be on the west coast this weekend, visiting Deion Williams, among other prospects.
3 in a row, Tic-tac-toe
A-B-C, 1-2-3, etc, etc. Duke can win football games. And they can do it in a variety of ways. Duke is playing much better football heading into their bye week than they were in week one, and that really should be no surprise. The Blue Devils have an experienced coaching staff and a young roster, with 67% underclassmen. There is plenty of reason to believe that the best is yet to come for the 2011 Blue Devils, but let's recap what we've seen so far.
Duke has won three straight games, which is newsworthy in itself, but it's even more notable when you look at how they won those three football games. After a disappointing 0-2 start, Duke traveled to Chestnut Hill with their confidence shaken and another dismal season staring them down. But, as BDN's Terry Rains pointed out earlier, the Blue Devils were able to rally together and, behind a record-setting performance by Sean Renfree, were able to win ugly. Duke played a game that was far from perfect, but even with many costly mistakes, they emerged with the W. We always talk about how slim Duke's margin for error is, but maybe that margin is widening just a little bit.
With the weight of the world off their shoulders, the Blue Devils returned home to a steamy Wallace Wade Stadium, where they dominated the Tulane Green Wave. The Duke offense faced little resistance from the Green Wave, and for the first time in a long time, the Blue Devils were clearly the better football team in all phases of the game. Duke was able to jump out to a 48-13 lead, which allowed a group of young players to take some meaningful snaps against a FBS opponent. It was a rare, but welcome, blowout win for the Blue Devils.
A week later, those late 4th quarter snaps proved invaluable, as the Blue Devils traveled to Miami to take on an impressive FIU team. BDN was on the scene to take in an entertaining game from "The Cage," played in front of the largest crowd in FIU history. After Duke fell behind 10 points in the 4th quarter, instead of a sense of defeat, there was an air of quiet determination on the Duke sideline. The team was waiting for a spark to turn the momentum, and it came from an unlikely pair of Blue Devils. Two redshirt-freshmen, the all-hyphen team, DE Jordan DeWalt-Ondijo and SAF Anthony Young-Wiseman, both of whom were filling in for injured Blue Devils, came up with the decisive sack and fumble recovery that turned the game around for Duke. Against a quality opponent on the road, the Blue Devils played good, fundamental football. They did not commit a turnover and were whistled for just 2 penalties all night. It was an impressive performance for a program that has been haunted by miscues and misfortune.
For a good summary of Duke's strengths and weaknesses thus far, be sure to check out Bob Green's analysis of the Blue Devils first five games.
Where do we go from here?
Strap yourselves in, for it might be a bumpy ride, wherever we're headed. The Blue Devils have a difficult road in front of them, with upcoming trips to Miami, Virginia, and North Carolina in November. Immediately after the bye, Duke starts a crucial three game homestand against Florida State, Wake Forest, and Virginia Tech. There will be no easy wins in ACC play, but the Blue Devils are playing good football and are capable of competing with every team left on the schedule. That's not just coach speak.  For those interested in some unpaid, unofficial advanced scouting work, tune in to the ACC network at 12:30 PM ET to watch the Seminoles travel to Winston-Salem, a free preview of Duke's next two opponents.
At 3-2 heading into the off week, Duke has managed to keep their bowl hopes alive, but they will need to play their best football down the stretch if they hope to extend their season into December. Of course, while Football Friday may not be here in writing, we'll be around in spirit every step of the way. This young Duke team still has a lot in store for us. WE ARE DUKE.